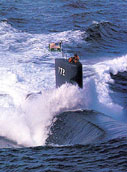 The Navy sub Greeneville collided this afternoon with a Japanese fishing training boat carrying 35 high school students, crew members and instructors. Ten from the boat were unaccounted for, the Coast Guard said

Navy photo
Updated at 5:32 p.m., February 9, 2001
BREAKING NEWS
Sub collides with Japanese training boat; 9 missing
The U.S. Navy submarine Greeneville collided with a Japanese high school fishing training boat about 10 miles south of O'ahu this afternoon, a Coast Guard spokesperson said. Nine of 34 people aboard the boat are missing.

Updated at 4:17 p.m., February 9, 2001
Hanauma Bay project approved by land board
The state Board of Land and Natural Resources today approved a controversial education center and over development at Hanauma Bay.

Posted at 5:30 p.m., February 9, 2001
Kaua'i rains flood hotel, close roads
Torrential rains were focused on the island's north shore today, flooding hotel rooms at Princeville and closing roads throughout the area from Hanalei to Ha'ena.



Hawai'i insurance costs continue to decline
The overall costs of insurance for Hawai'i's drivers, homeowners and businesses continue to fall, despite signs that rates may be on the rise again, the state's chief insurance regulator said.

Teachers show unity at Capitol rally
More than 5,000 teachers swarmed the state Capitol yesterday answering their union's call for solidarity in the face of deadlocked contract negotiations.

Campaign Spending Commission subpoenas Mansho's records
The state Campaign Spending Commission is investigating Councilwoman Rene Mansho's use of campaign money to pay for dozens of government-sponsored trips over the past decade.

---