By Beverly Creamer
Advertiser Staff Writer
Wherever there's an outbreak, you will find Laurie Garrett.
Congo (formerly Zaire) in 1995. Russia three years later. India after that. Toting her own syringes, a surgical mask, latex gloves and a state-of-the art filter attachment for a water pipe, the award-winning journalist travels wherever a new or unknown virus strikes, seeking a first-hand look at the world's emerging Public Enemies.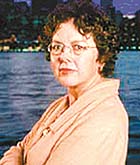 Writer Laurie Garrett says a change in priorities is needed to build better public health systems and prevent more killer outbreaks of diseases, such as Ebola and AIDS.

Six years ago in Kikwit, Congo, an area with one road in, primitive medicine and no running water, electricity or sewage system, she saw the Ebola virus inflict excruciating deaths in a country ill-prepared to meet the threat. Patients vomited black, bloody liquid from hemorrhaging tissues and were buried in mass graves to protect the living from transmission.

"The crying in the night would carry across the whole city," she said.

As one of the country's leading writers on the breakdown of the global health system and the potential for bioterrorism from viruses such as Ebola, Garrett is uncompromising in her warnings about the risks we face. She will talk about them in two lectures today. (See details at right.)

While some have criticized her for painting an exaggerated or inaccurate picture, particularly regarding the rising transmission of drug-resistant HIV, others agree with the Pulitzer Prize-winner that we may not be taking seriously enough the threat of a widespread outbreak of some incurable viral illness. But the picture she paints is far more layered and complex than mere sensationalism; she talks of globalization, the misuse of antibiotics, the ease with which disease agents can be genetically altered, and the weakness of our health systems and our preparedness.

For instance, she spins a believable and terrifying scenario of what could happen in a place like Waikiki should biological terrorists release a deadly agent among a dense, highly mobile population.

Pulitzer Prize-winning author Laurie Garrett
12:30 and 6 p.m. lectures today
Kuakini Medical Center's Hale Pulama Mau auditorium
Betrayal of Trust and the global breakdown of public health; bioterrorism
Free
Sponsored by Diagnostic Laboratory Services

"Unless someone says 'Hello, I just released an anthrax bomb in Waikiki,' no one will know it until people start showing up in emergency rooms in the next two or three days," she said in a phone interview prior to her Island trip. "And it will take the combined intelligence of medical laboratory workers and physicians and health care workers all across the region to figure out what happened."

The country's health system would need to mobilize to treat people and bring in supplies, if there were any effective treatments. By then, visitors would have scattered across the United States and to other countries. And they also would need treatment once the agent of disease is identified.

The most startling evidence of the potential of bioterrorism greeted her in Siberia in 1997 where she visited two of the dozens of laboratories the Soviets had built to grow more than 100 strains of smallpox, Ebola and other potentially deadly viruses.

"There were forms of smallpox that could be launched on top of a SCUD missile," she said. "Were someone to release smallpox, the estimated death toll would be 30 percent of the exposed population. No one's immune to smallpox anymore. After 1972, we stopped vaccinating."

But you don't need to go to Siberia to be afraid. The Web sites of right-wing extremist groups, including neo-Nazis, contain information on creating disease agents in your own back yard, she said.

"They tell you how to specifically poison Catholics by putting toxins on rosary beads," she said.

It may sound more like the scenario of a sci-fi novel than anything based on reality, but Garrett has published two books detailing her research on five continents over the last six years. Her latest, "Betrayal of Trust" (Hyperion, 2000) — the first was "The Coming Plague" (Viking Penguin, 1995) — deals with how public health has lost its way.

At the moment, the majority of funding is going to the criminal justice system, rather than systems to strengthen public health, she said. Changes in priorities are needed to build a safer world.

"The wrong people are in charge in this country and globally in terms of thinking about how to protect populations against bioterrorism or biothreat."

Even when it comes to something seemingly as common as the flu, Garrett says we are long overdue for a "super killer" form, such as the one that took 25 million lives in 1918.

"Now, with more than a million people crossing an international border every day, a highly virulent form of influenza could take an enormous global toll," she said, adding that the country where new strains are likely to develop — densely populated China — has little in the way of health monitoring, and a lifestyle that fosters constant viral mutation.

"Influenza is actually an aquatic bird virus normally, but when you raise ducks and pigs next to each other, the virus infects pigs," Garrett explained. Through contact — a pig sneeze, for example — the virus could be transmitted to humans. "Almost every year as it passes from species to species, it is a different virus," she said. "That's why we need to constantly make new vaccines."

But just the fact that we can manipulate microbes puts us at further risk. "Anyone sick enough to create a super-lethal influenza would find it easier to do than five years ago," Garrett said. "We've mapped the whole genome. This is the other aspect of bioterrorism. We know so much more about how to genetically manipulate microbes. It's all very easy to do."