By Vicki Viotti
Advertiser Staff Writer
You might be the type to wear your heart on your sleeve. Or, you might attach it to your car fender, in the form of a chrome-finish emblem.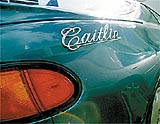 EmblemArt Co. has been trying to find high-profile personalities to exhibit its emblems, but even if you're just plain Caitlin, your name can go up in chrome.

Bruce Asato • The Honolulu Advertiser

Marc Myer and Terry O'Rand, North Shore-based entrepreneurs, started EmblemArt Co. a year ago with the latter group in mind: Those who think the car, more than mere transportation, serves as a gallery for personal expression.

Until now, such custom displays have taken the form of painted-on slogans, nicknames and tributes to loved ones.

Car buffs who want something a cut above the standard paint job might opt for the EmblemArt product, lettering or designs of their choosing, molded into a plastic emblem with a variety of finishes and then applied with adhesive to their car. Prices start at $95; the chrome-plate finish has to be done off-island and will cost $120. At the higher end are the illuminated emblems, starting at $225.

The company (reachable at 293-2241, www.emblemart.com) has been trying to drum up business by wooing higher-profile personalities to exhibit emblems. Hula photographer Kim Taylor Reece has a wood-finish emblem based on one of his dancer images; an illuminated sign went to TV gadabout Tiny Tadani. But even if you're just plain Caitlin, your name can go up in chrome, if not lights.