By William Cole
Advertiser Staff Writer
Hawai'i rang in the New Year on a relatively quiet note last night, a dramatic contrast to the deafening, smoke-shrouded, 24-hour bomb-fest of a year ago.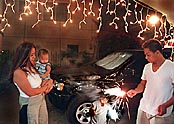 Jocelyn and Soliman Valdez of Kalihi, with sons Thomas and Michael, celebrated with sparklers.

Jeff Widener • The Honolulu Advertiser

Where revelers began popping firecrackers and launching pyrotechnics at the dawn of New Year's Eve 1999, New Year's Eve 2000 was a sleeper early on, a sparkling Sunday notable mostly for its relative silence.

But there was the potential for tragedy later in the evening as the smoke thickened.

Firefighters responded to a house fire at 2615 Myrtle St. in Palolo at about 10: 30 p.m. An 80-year-old woman lived with her adult daughter at the home, according to firefighters. The daughter was reportedly away from the house, but the elderly woman was unaccounted for as officials began to investigate the fire. Firefighters suspect the blaze was caused by fireworks.

"The house is totally destroyed," said Honolulu Fire Department spokesman Capt. Richard Soo. Preliminary damage was set at $100,000 to the structure and $40,000 to the contents.

Although a smaller legal supply of fireworks was on hand this year, fire officials expected aficionados to save their best and biggest pyrotechnics for midnight.

A state law passed after the din and danger of last year's celebration required the purchase of $25 permits to buy a string of 5,000 firecrackers.

As of Saturday, only 6,150 firecracker permits were sold in Honolulu. Officials had expected to sell 20,000.

But Soo said last night the permits may have done what they were supposed to do — reduce the danger of fire and injury and lessen the strangling pall of smoke that envelopes entire neighborhoods each New Year's Eve.

'Safer this year'

"Definitely it's been safer this year," Soo said. "I think what's happened is the general public had to figure out how much it's worth to pay $25 to get $10 worth of fireworks."

Eighty-year-old Albert Sur of Hawai'i Kai said he was amazed by the peace in his neighborhood yesterday afternoon.

"End of the year here, my dog suffers every year," he said. "Not one pop, isn't that amazing? Not one pop."

There were the usual fireworks incidents last night, including eight brush fires and nine rubbish fires.

An 11-year-old boy received second-degree burns in Halawa after he got into an argument with a 13-year-old boy at about 6:45 p.m. The older boy tossed a type of fireworks that was lighted onto the younger boy's back, police said. The incident was being investigated.

By 7:30 p.m., police had received more than 200 calls about the use of illegal fireworks. The earliest fireworks could be used legally was 9 p.m.

One of the more serious accidents leading up to New Year's Eve occurred on Friday when a 29-year-old Maui man lost the fingers on his left hand after a homemade fireworks display exploded, police said.

The man, William Dagupion of Lahaina, was in guarded condition last night at the Queen's Medical Center after being transferred from Maui Memorial Hospital. The blast also injured his left eye.

On Saturday, $20,000 damage was caused to an 'Ewa Beach home when fireworks landed on a lanai roof, causing a fire, authorities said.

The reports were fewer compared with last year. Fire crews responded to 44 fireworks-related incidents on New Year's Eve, and an additional 39 calls after midnight.

Major injuries last year included a 25-year-old Waialua man who died of head injuries after a homemade aerial fireworks device exploded and a Kailua High School student who lost an eye when sparklers blew up in her face.

Last year, police received 2,595 fireworks calls between Dec. 26 and Jan. 2.

Larry Lomaz, who operates five Pacific Fireworks stores on O'ahu, said this year there was a 60 to 70 percent decrease in the amount of legal fireworks being shipped into Hawai'i.

Part of that is due to a huge increase last year in anticipation of millennium celebrations.

'Rich man's game'

But he also said the permit requirement has hurt business.

"This whole island is quiet — and I'll tell you why," he said. "It's because of this ridiculous $25 permit. Chain stores aren't selling fireworks" like they used to. Lomaz said he brought in 300,000 pounds of fireworks.

A total of 145 fireworks licenses were issued compared with 258 last year. Lomaz said the permits not only made life difficult for the sellers but also the buyers.

"This is almost becoming a rich man's game — shooting fireworks in Hawai'i — which is unfortunate," said Lomaz.

Some customers at his store on Nimitz Highway perusing piles of firecrackers and fountains with names such as "Devastation," "Philly Freedom," and "Screaming Stars" were without permits yesterday and buying only the fountains.

"If I didn't have to get a permit, I probably would have bought a few firecrackers for my older kids," said Kelvin Asahina of Alewa Heights.

One of the few arrests this year for possession of illegal fireworks was made on Friday night, when a 39-year-old Pearl City man was picked up for storing 1,800 pounds of fireworks at his home, police said.