By Stacy Kaneshiro
Advertiser Staff Writer
KAILUA - The missing piece to perennial basketball power Kalaheo was so close, relatively speaking, yet so far.
Until now.
Skyler Wilson is the nephew of Mustangs' coach Pete Smith. After spending his first three years of high school in California's Riverside County, the three-time All-Desert Valley League first-team selection transferred to Kalaheo, filling the Mustangs' void at point guard.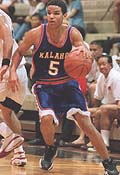 Skyler Wilson, a three-time all-league player in California, represents someone who could put Kalaheo over the top. Wilson is a point guard, something the Mustangs have been missing. Wilson transferred to Kalaheo, which is coached by his uncle Pete Smith.

Jeff Widener • The Honolulu Advertiser
"Since we had Steve Hess (1997 Kalaheo graduate), we haven't had a real point guard," Smith said.
But Wilson's not just another player. Other coaches also like Wilson, calling the 6-foot, 170-pound senior an impact player on a team they say is the best in the state.
"He's really a solid ball player," Punahou coach Alan Lum said. "I haven't seen a point guard like that since ('Iolani's) Kirk Uejio. He plays the same kind of defense, can score when he has to and runs the team well. All Uejio-led teams were successful."
Wilson playing the point is the reason he made the move here, where he is living with his grandmother. At La Quinta High, Wilson played every position but center. He said that basketball "is not a big high school sports in my area. But it's my No. 1 sport.
Wilson wants to play the point in order to prepare him for college.
"When college scouts talk to me, they say, 'We want to see you at the point,'" Wilson said. "My old high school, sometimes they had me play the 2 (shooting guard), the 3 (small forward) and sometimes even the 4 (power forward). And that's not my position. I'm only 6 foot. In the summertime when I go to all the tournaments, (point guard is) all I played. That's why I feel comfortable, really. I like having the ball in my hands. That's where I want to be and that's where they need me."
He joins a team that already has all-state guard D.C. Daniels, a scoring machine last year as a sophomore, and 6-foot-6 forward Ikaika Alama-Francis.
"Now he gives us a legit three guys who can score at any time," Smith said.
Wilson has feelers from Southern Methodist, San Jose State, St. Mary's and Santa Clara. They may not be Duke, North Carolina or other Top 10 programs, but that doesn't matter.
"I'm not looking to go UCLA," he said. "I would like to go D-1 (Division I) somewhere just to get a chance to play. I don't want to go to a high D-1 and just sit the bench. I want to go somewhere, hopefully, to help the program. That's all I really want to do. And get a free education."
According to the Desert Sun newspaper of Palm Springs, Calif., Wilson was one of the top two players in his area. According to one the paper's reporters, Wilson averaged 22.2 points, 8.2 rebounds and 1.7 steals per game. He led his team in scoring with 599 points, including 45 3-pointers.
"His strength is he sees the floor real well," Smith said. "He can find the open guys, but also gives us another scorer. He can score, but he's not selfish. He's a good addition to our team. He's a true point guard in the respect that he can handle a team. It's something we've lacked all these years."
Wilson knows his strength.
"I think I penetrate to the basket pretty good and get the defenders to collapse on me," he said. "I can kick it out, find the open man. I like to do that. I like to get my teammates involved a lot."
But he understands there's room for improvement.
"What I probably need to work on is my off-the-ball defense," he said. "I can defend somebody one-on-one, but I lose it sometimes on my off-the-ball defense. I'm working on it. I'm getting better."
Basketball is in Wilson's genes. His cousin is former University of Hawai'i guard Alika Smith, who is an assistant to his father at Kalaheo. Alika Smith was a three-time all-state selection while at Kalaheo.
Wilson's parents both played at the College of Southern Idaho, where they met. Wilson's mother, Pollyanne, is Pete Smith's sister, and a teacher at La Quinta. She played for Kalaheo in 1977.
"So basically my whole family is into basketball, and that's what I like to do," the younger Wilson said.