By Paula Rath
Advertiser Island Style Writer
We're revealing a well-kept secret today, although with a little selfish twinge: You know those spa treatments you've been paying mega-bucks to get (or avoiding because you can't afford them)? You don't have to pay retail.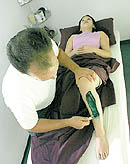 Alan Lemieux, who graduated from the HCC program, waxes Celena Fenton's legs.

Deborah Booker • The Honolulu Advertiser

Tucked away on Dillingham Boulevard is a place where seekers of pampering spa treatments can go to receive European facials, waxing, makeup — a full complement of the usual day spa services — for rock-bottom prices. These fees are based on the cost of supplies only. The most expensive, a European facial, is just $20. Elsewhere, facials run $40-$60.

It's the Honolulu Community College esthetician program (an esthetician is a skin-care specialist). The students who work on clients already have spent their first semester practicing on each other and the instructors. They have 300 hours of training in individual skin analysis and histology (study of the skin). Now they are ready to accept their first clients from the community. The catch is that this "spa" is open only on three weekday evenings and only through this semester, ending May 1. It'll resume in summer with the next semester's students. And, of course, you won't find the lavish surroundings of a resort spa, or be able to develop a long-term relationship with your treatment giver (the students graduate).

Honolulu Community College esthetician program
Where: Building 27 on the Honolulu Community College campus, 874 Dillingham Blvd.
When: Appointments are available 5:30-7:30 p.m. Tuesday, Thursday and Friday evenings. Appointments are available beginning today through May 1.
Some costs: Plain facial $10; European facial $20; Eyebrow arch $3; Makeup $5; Calf waxing $15; Lip wax $5.
To make an appointment: Phone 845-9131 between the hours of 7:30 a.m. and 2:30 p.m. Tuesday, Thursday and Friday or 7:30 a.m. to noon Monday. Closed Wednesday.

For years, Honolulu Community College has been training cosmetologists to do hair, nails and makeup. In August 2000, the school launched a training program for future estheticians (day spa specialists who do facials, waxing and such).

Jess Aki, assistant professor of cosmetology, said the college noted the growing number of spas and day spas in the Islands. "But we had very few trained in spa services, so we needed a program for estheticians," she said.

The first program met on a day-time schedule, but the current curriculum is an evening one, enabling students who work during the day to attend classes at night.

The curriculum is a grueling 600 hours spread over an academic year. Of this, 200 hours are theory, 50 cover salon management and 350 are practical, hands-on experience.

The current students are an interesting mix: massage therapists, a professional photographer, freelance makeup artists and hotel employees who want to work in spas opening in their hotels .

Kim Camara has been a professional makeup artist for 15 years. As a second semester student, she said the HCC curriculum has provided excellent preparation and training. "It's not just about giving a facial, which I already knew before," she said. "It's like going to medical school, we learn so much about skin." Her goal after graduation in May is to work in a spa either in Hawai'i on on the Mainland.

Benedict Palmeri, the only man among the current crop of 15 students, has a lifetime of experience in the beauty business. He owns Image Beauty Emporium and Salon on Queen Street. So why bother to go back to school?

"Being that I create my own body and face creams, I wanted to be sure I knew skin thoroughly. I'm at HCC to better myself and my knowledge of skin and to create more services in the salon," he said.

Graduates of the 1999 HCC estheticians program are already working in salons and spas.

Alan Lemieux, owner of Genesis Skin and Body Oasis in Aina Haina, was a massage therapist for 15 years. He wanted to add skin care to his service list of massage, manicures and pedicures. "I feel confident in what I learned at HCC. I knew it was state-of-the-art information because they're interested in what they're teaching and they keep up on all the latest technology. I feel like I have a thorough understanding of the skin because I had enough hands-on practical work in class."

Winnie Tsui, a 1999 graduate, had a facial salon in Hong Kong for 10 years. "I wanted to get more information from America because I'm a new immigrant," she said. "HCC helped me to understand the medical side of skin treatments. In Hong Kong, I was more involved with Chinese herbs and acupressure massage. Here I learned the American way with American products," working with all types of skin. She now runs her own salon in the Waikiki Gateway Hotel, Winnie's Skincare Therapy.

As day spas pop up all over the Islands, there will be increasing jobs for these graduates. And increasing opportunities for Island women to be pampered by professionals.

But now, while they're still in training, it's the best beauty deal in town.