By David Bauder
Associated Press Writer
LOS ANGELES — Country singer Faith Hill won two American Music Awards yesterday, with the rock band Creed and soul singers Destiny's Child also winners in honors decided by music fans.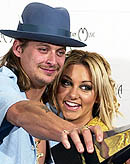 Kid Rock was named favorite male pop artist. He appeared at the backstage interview room with girlfriend Jennifer.

Associated Press photo

Hill, nominated for four awards, won favorite country album for "Breathe" and favorite female country artist.

"Wow!" she said. "This is something else ... I was going to wear my husband's underwear but it had a hole in it." She's married to country star Tim McGraw.

Creed, also up for favorite pop album and band, was chosen favorite alternative music artist. Destiny's Child, of "Say My Name" fame, was named favorite rhythm 'n' blues group.

The belly button-baring count stood at four: Jennifer Lopez performed in a midriff-exposing outfit, host Britney Spears stripped off a pink gown in favor of skimpy two-piece and two members of Destiny's Child exposed their bellies.

The busy Spears, co-host with LL Cool J, revealed five separate outfits in the show's first hour.

Unlike the Grammys, which are voted on by Recording Academy members, music fans determine the awards, making them a popularity contest. A polling group sent out 20,000 ballots to record buyers.

Toni Braxton won her third American Music Award for favorite soul album. She won the same award in 1995 and 1997.

"I had a little boo-boo and I hurt my leg and this makes it all feel so much better," said Braxton, who later performed with her left knee wrapped.

The rock band 3 Doors Down, who made the hit song, "Kryptonite," was named favorite new artist in the pop category. Donnell Jones won the same honor in the rhythm 'n blues category.

Two artists who were largely idle last year won trophies: Kid Rock as favorite male pop artist and Celine Dion as favorite adult contemporary artist.

Spears, Creed and 'N Sync — who were all snubbed for album nominations at the Grammys — competed for top album.

Janet Jackson will be singled out for the special Award of Merit given each year for "outstanding contributions to the musical entertainment of the American public."

Previous Award of Merit recipients include her brother, Michael Jackson, Ella Fitzgerald, Paul McCartney, Elvis Presley, Frank Sinatra, Billy Joel and Gloria Estefan.

Aerosmith will also get a special International Artist Award.