By Brandon Masuoka
Advertiser Staff Writer
Heavily armed police swarmed on a Nu'uanu apartment yesterday and arrested a 24-year-old parole violator with a history of violence, and weapon and drug offenses who had returned to the same dwelling that police searched just three days earlier.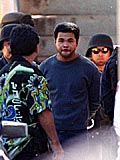 Frank K. Chin, who was wanted for parole violations, was arrested yesterday at the Nu'uanu Garden Apartments.

Richard Ambo • The Honolulu Advertiser

Frank K. Chin was unarmed and surrendered shortly before 12:15 p.m. yesterday after a two-hour standoff at the Nu'uanu Garden Apartments at 1719 Nu'uanu Ave.

By about 10 a.m., police had surrounded the ground-floor apartment after receiving a CrimeStoppers' tip saying that Chin had returned. On Friday, the fugitive had eluded authorities before they converged on the same apartment.

For safety's sake, police evacuated 10 to 12 people from nearby homes and alerted other residents of the situation. About 175 students at nearby Cathedral School and Soto Academy were kept inside classrooms until police completed their operation, school officials said.

"I'm just glad it's over," said Veronica Hills, a resident of Nu'uanu Garden Apartments. "I think police did a good job. They did it safely, efficiently and no one got hurt."

Police feared that Chin may have been armed and desperate, said acting Maj. Doug Miller of the Specialized Services Division. There were reports that Chin said that he would not be taken alive.

Miller said Chin surrendered to authorities after talking with negotiators and his attorney, Don Wilkerson, who came to the scene.

Wilkerson said he urged his client to surrender, but said Chin became frightened for his own safety and safety of his girlfriend after seeing the number of heavily armed police.

Chin's girlfriend was inside the apartment with him yesterday. She initially told police Chin was not inside her apartment, but later admitted he was inside, Miller said.

Police are investigating what charges, if any, will be brought against the girlfriend, Miller said. Wilkerson said he doesn't believe any criminal charges will be filed against her. On Friday morning, police converged on the same apartment to investigate a possible domestic violence incident involving Chin. Chin's girlfriend and a man — not Chin — emerged unharmed from the apartment about four hours later.

Chin will be returned to the Halawa Correctional Facility, police said. He has 18 convictions, including robbery, burglary, auto theft and drug offenses, according to the Hawai'i Criminal Justice Data Center.

Chin's parole violation was for failing to report to his parole officer, among other violations, Wilkerson said.