By Suzanne Roig
Advertiser East Honolulu Bureau
HAWAI'I KAI — The 69 acres of land where Kamval LLC wants to build a cemetery, crematorium and mortuary has a checkered past.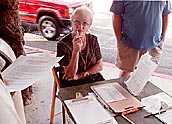 Bernadette Gruzinski answers questions and collects signatures on petitions opposing development of a Kamilonui Valley cemetery, possibly with a crematorium and funeral home.

Jeff Widener • The Honolulu Advertiser

Where tall dry grass and haole koa bushes cling to the rocky sides of Kamilonui Valley and abandoned warehouses stand — the remains of Kaiser Development Co.'s construction of Hawai'i Kai in the 1960s — there have been plans for a light-industrial center, 364 homes and a film studio.

All of the projects have at one time or another been rejected.

The latest proposal is opposed by residents who have been voicing objections since it was announced in October. They've gathered nearly 800 signatures, posted signs around the community and planned how to bring their testimony before the City Council Zoning Committee, which will vote on the boundaries of the cemetery today.

The cemetery is an approved use for the land, so the developer needs no permission to build. However, opponents hope their pleas will push the council to find another alternative for the land. Two years ago, community opposition in 'Aina Haina led the City Council to buy a piece of land to prevent a cemetery being built on it.

Hawai'i Kai residents even urged City Council members to go to Kamilonui Valley and see the site for themselves, which they did on Friday.

Roger Nakano got involved in opposing the cemetery after the Hawai'i Kai Neighborhood Board voted in November to support the proposal.

Issue reaches council today

The cemetery proposal will be discussed at 9 a.m. today by the City Council's Zoning Committee in Honolulu Hale's third-floor conference room. For more information, call 523-4291.

"I'm usually one of those quiet guys," Nakano said. "When you tell people they will be burning people up there, they get upset. I don't think people realize that there will be a crematorium up there. A crematorium has fuel, and a mortuary has a chapel and a parking lot. These are not uses related to conservation land."

When built, East O'ahu Memorial Park would have 44,000 plots, and possibly a crematorium and a mortuary. The developer estimates there would be 70-120 funerals a year, each bringing about 75 cars through the area.

Each previous proposal, residents say, was turned down for one reason or another, but primarily because the soil in the valley is known to move during heavy rains, and the area has been known to flood. The city's development plan shows the valley to be one of several with potential for landslides.

The area also has some historic sites, including a heiau on Makaluena Place.

Traffic is another concern of residents. Hawai'i Kai, with its estimated 50,000 residents, will soon be growing as developers put together proposals for nearly 1,000 new homes along Lunalilo Home Road, Hawai'i Kai Drive and Keahole Street.

"You have to follow the money," said Robert Oda, a Mariner's Cove resident. "The main issue of the cemetery is the traffic."

The developer is required to perform traffic and soil studies, according to a resolution before the committee.

Keith Kurahashi, a planning consultant hired by Kamval, said a catchment basin is being proposed to prevent flooding during heavy rains. The cemetery would use the impounded water for irrigation and for fire protection, Kurahashi said.

"By doing this, we reduce the rate of runoff and storm flow," he said. "We understand that there is a concern by the residents."