By Yasmin Anwar
Advertiser Staff Writer
Office of Hawaiian Affairs trustees on Thursday are expected to review some ambitious projects, including OHA's proposal to buy the old downtown U.S. Post Office.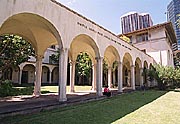 OHA's interim trustees earlier voted to buy the U.S. Post Office Custom House and Court House.

Advertiser library photo • Oct. 11, 2000

At an intense, all-day board meeting, trustees will receive updates on more than a dozen projects that have been in limbo. Among them are plans hastily approved last year by temporary trustees who were appointed by Gov. Ben Cayetano to run the board until the Nov. 7 election.

During their two months in office, the interim appointees moved for OHA to assume the lease of the financially strained Hana Village Marketplace on Maui and transfer the lease of the Ni'ihau School of Kekaha to the 'Aha Punana Leo Hawaiian language-immersion program.

The school for Ni'ihau children on Kaua'i has been divided for more than a year in a dispute over control of the school and its academic program.

The interim trustees also voted for OHA to look into moving its home to the U.S. Post Office Custom House and Court House, in which its price tag could reach $20 million with renovations.

Trustees Clayton Hee and Charles Ota backed those projects when they were interim trustees. But some members of the new board are expected to take a harder look at their feasibility.