Tournament facts
Advertiser Staff
Tiger Woods and 33 of his closest golfing buddies will descend on Maui this week for the third Mercedes Championships at Kapalua's Plantation course. It is the PGA Tour's 49th annual tournament of champions, overall.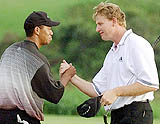 Tiger Wood and Ernie Els congratulated each last year after each sank an eagle putt on the 18th hole of Kapalua's Plantation Course to force a playoff at the Mercedes. Woods won on the second playoff hole for his fifth consecutive Tour victory.

Advertiser library photo • Jan. 9, 2000

The first official event of the season provides a $3.2 million purse for its qualifiers — the 34 players who won tour events in 2000. First prize is $576,000 and a Mercedes-Benz SL500. The guy who finishes in last place will make about $50,000.

Woods won on Maui last year, and at 10 other places around the world. He beat Ernie Els with a 40-foot birdie putt on the second extra hole at the Plantation. Both eagled the 72nd hole and birdied the 73rd.

Woods won three majors last year to complete his career grand slam at the age of 24. He is 25 now, and prepared to break all his newly minted records. In 2000, he led six of the 10 major statistical categories, won more than $9 million on the PGA Tour and became the first player to surpass $20 million in career cash.

Els is back for another shot at Woods this week. The field also includes Sony Open in Hawai'i champion Paul Azinger, Jesper Parnevik, Tom Lehman, Phil Mickelson, Jim Furyk, Vijah Singh, Stewart Cink, Robert Allenby, Notah Begay III, Justin Leonard, Billy Andrade and John Huston.
NOTES: According to a press release by the Hawai'i Tourism Authority, the PGA Tour and HTA today will announce "a marketing partnership that combines the six men's professional golf tournaments held annually in Hawai'i into a package that will serve as the cornerstone for the state's $1 billion golf industry."
2001 Mercedes Championships
What: First PGA Tour event of the season, featuring the 34 winners from 2000.
Where: Kapalua Plantation Course (Par 36-37-73, 7,263 yards).
When: Thursday-Sunday, from 11 a.m. Thursday-Saturday and 10:30 a.m. Sunday.
Pro-Am: 7 a.m. tomorrow.
Purse: $3.2 million ($576,000 first prize, plus a Mercedes-Benz SL500).
Defending champion: Tiger Woods (276).
Tickets: Season tickets for all week cost $60. Practice round ticket package (today, tomorrow) $20. Daily prices $15 Thursday or Friday, $30 Saturday or Sunday. Children (16-under) free with ticket-holding adult.
TV: ESPN-2:30-5:30 p.m. Thursday-Saturday, 3-5 p.m. Sunday. (Hawai'i times.)