By Stephen Tsai
Advertiser Staff Writer
At every gathering, it seems, there is always one hard-to-place guy.
University of Hawai'i volleyball player Vernon Podlewski is that guy.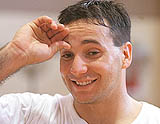 Maui High '94 graduate Vernon Podlewski took the long way to the University of Hawai'i campus, but he's finally here to play.

Jeff Widener • The Honolulu Advertiser

Was he the customer service representative at the United Airlines counter? Or the one who installed fiber-optic cable at the downtown First Hawaiian Bank building? Wasn't there a "Vernon Podlewski" who graduated from Maui High in 1994?

Well, yes.

Podlewski's life story could fill an atlas. His United benefits gave him access to the world; his volleyball skills were a passport to major tournaments across the Islands and on the California junior college circuit.

Last week, Podlewski was living in Santa Barbara, Calif. Today, he is the Warriors' starting libero (pronounced lee-broh) — the defensive specialist distinguished by his jersey, which is a different color than those worn by teammates.

"Until last week, all we knew about him was his name was on the coach's chalkboard forever and ever," UH middle blocker Brenton Davis said.

Hawai'i vs. Lewis
7 p.m. tomorrow and Friday at Stan Sheriff Center
Tickets: $12 (lower level, super rooter guest), $9 (upper level), $8 (senior section), $7 (super rooter), $6 (UH students, ages 4 through high school)
Radio: None. TV: Live on KFVE (channel 5)

"It was nice to finally meet him," middle blocker Dejan Miladinovic said.

Podlewski conceded: "My life, right now, is going fast. I'm out of breath."

For Podlewski, his journey to Manoa began with a dream. As a Maui High junior in 1993, he attended UH coach Mike Wilton's volleyball camp.

"The first time I saw him, I wanted him to play for me," Wilton said.

Podlewski said his goal was to play for UH, but not immediately. There were things to do, places to see, people to meet.

After graduating in 1994, Podlewski moved to O'ahu, where he worked for four years, first installing cable and then working for United. Working with "very irate passengers," Podlewski said, was balanced by the chance to travel.

"It was a great experience," he said.

In 1998, he enrolled at Santa Barbara City College, a two-year school, where he excelled as a 5-foot-8 outside hitter. And that's where the story was supposed to fade to real life. "I thought, 'OK, I played in junior college, I got my time in there, now I'll graduate, get a job and get on with my life,' " he said.

But Wilton never forgot Podlewski. During a road trip to California last year, Wilton invited Podlewski to join the Warriors. Two weeks ago, Podlewski earned his associate's degree — an NCAA eligibility requirement — and joined the team last Tuesday.

"He had a little jet lag when he came in," outside hitter Torry Tukuafu said. "We weren't really sure what he was capable of doing."

Podlewski flunked his first test. Each player was required to touch 125 lines on the court within a set time period. An exhausted Podlewski quit after 107 touches.

"I ran out of gas," he said.

But Wilton was undeterred, saying, "I know the big picture on this kid." Wilton marveled at Podlewski's agility, passing and toughness.

"He'll go into the bleachers to get a ball," Wilton said. "He'll sacrifice his body to make plays for the team."

After the third practice, Podlewski was awarded the libero job.

"He proved himself already," Davis said. "He's a great passer."

Said Podlewski: "I'm in shock, but I'm very thankful. I always dreamed of starting."

Still, Podlewski often is greeted by puzzled stares.

"They'll say, 'You play volleyball?' " he said. "When I tell them I play libero, they'll say, 'What's that?' Are you the guy who wears the different-colored jersey?' It makes me laugh. I'll play along and say, 'Yeah, sorry, I didn't wash my clothes and had to wear something else.' "