High school basketball, soccer, softball standings
By Dennis Anderson
Advertiser Staff Writer
The O'ahu Interscholastic Association softball tournament is going high profile. The league's championship game will be televised for the first time this season.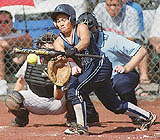 Bunting played a key role in Kamehameha's 4-2 win over 'Iolani on Saturday. Here, Napua Naumu of the Warriors tries to put one down against the Raiders, who saw a 38-game winning streak end.

Eugene Tanner • The Honolulu Advertiser

The third-place and championship games are scheduled to be played at Hawai'i Pacific University's Windward campus in Kane'ohe on Jan. 20 (10 a.m. and noon, respectively). Tapes of the games will be aired at 7 that night on Oceanic Cable channel 16, according to OIA softball coordinator Gordon Miyashiro.

"They have to be taped because we have no live feed from there," Oceanic spokesman Kit Beuret explained.

Semifinal games also are to be played at HPU Windward on Jan. 18. The first two rounds of the tournament will be played at the home sites of higher-seeded teams on Jan. 16 and 17.

The tournament has previously been played at Roosevelt High.

Twelve teams are seeded into the tournament on the basis of their finish in Eastern and Western division standings. Mililani, winner of the last two OIA championships, is 8-0 in the Western Division while Castle, Kailua and Kaimuki share the Eastern Division lead with 8-1 records. The regular season ends tomorrow.

The top five finishers in the OIA tournament qualify for the state tournament at Rainbow Wahine Softball Stadium, Jan. 31-Feb. 3.




MORE SOFTBALL
ILH: Two-time state champion 'Iolani had won 38 straight regular- and post-season games before Kamehameha derailed the Raiders Saturday, 4-2, in nine innings. Both teams have 9-1 Interscholastic League of Honolulu records with four to go and could be headed for a championship playoff on Jan. 27.
The last team to beat 'Iolani before Saturday was Sacred Hearts, 5-3, on Jan. 20, 1999.
Sarah Wong's bunt led to Kamehameha's winning runs in the ninth. "We have quite a few girls who can lay it down," Warrior coach Ty Sing Chow said.



BOYS BASKETBALL
Wave of the future: How's this for making a statement? Kealakehe of Kona has its first senior class this year and in their first weekend of league basketball, all the Waveriders did was defeat defending state champion Hilo, 60-50.
The enrollment of Kealakehe, located north of Kailua, already dwarfs Konawaena High, the school it was built to complement. After Kealakehe's senior-less boys soccer team was quickly eliminated from the state tournament last year, coach Urs Leuenberger said, "People are laughing at us now, but in about five years, they're going to be crying."
Might not take that long.
Test of ranks: Kalaheo and 'Iolani, the No. 1 and 2 teams in the HawaiiSportsNetwork.com poll, won't have to wait long to find out if their rankings are valid.
'Iolani meets Kamehameha tonight and travels to defending league champion (and state runner-up) St. Louis on Friday. Kalaheo plays the other two unbeaten teams in the OIA Eastern Division — at McKinley tonight and Kahuku at home Thursday.
Pine time: Look who's on top of the Maui Interscholastic League standings. Lana'i's Pine Lads are 4-0 after two weeks and are home this weekend for two games with King Kekaulike.
To reduce travel costs, teams visiting Lana'i or Moloka'i usually play their first- and second-round games in one weekend. The Saturday result is "banked" for later use.



SWIMMING
Biggest meet: In sheer numbers, the biggest swim meet of the year will be this weekend. More than 500 entries are expected at the 24th annual Kalani Invitational Friday and Saturday at Kalani High.
Qualifying heats begin Friday at 3 p.m. with consolation and final races starting at 2 p.m. Saturday. Diving will be at 9 a.m. Saturday at the Kamehameha Schools.
Most of the state's premier swimmers are expected to compete, and get a preview of the competition they can expect at the state championships next month at the University of Hawai'i's Duke Kahanamoku Pool.



WRESTLING
Pinning us down: In column 2 of Saturday's high school report, we wrote, "two-time state champion Moanalua appears dominant again" in OIA girls wrestling. Two columns to the right, in smaller type used for results reported later that evening, Castle dominated Moanalua, 39-18, winning five matches by pins. Saturday the Knights dominated again, beating the other usual-contender, McKinley, 35-9.
"I think we have a really good shot at states," Castle coach Ben Guerreiro said. "We were unbeaten in the preseason and won the Mililani Invitational, where we beat Moanalua and some Mainland teams."
Returning state champion Cathy Migita and Kristin Fujioka, both seniors, are Castle's co-captains. Migita is ranked eighth nationally at 121 pounds and Fujioka ninth at 103 pounds by the U.S. Girls Wrestling Association.
Tanya Miyasaki, third in states last year at 103 but now wrestling at 98, and Crystal Hirose, 108-pound returnee, are other standouts.
Against Moanalua, Guerreiro "won the chess match," moving some wrestlers to different weight classes to take advantage of matchups.
"This is our best team," he said.
Hawai'i is a pioneer in girls high school wrestling and will hold its third official state championship in March at Blaisdell Arena.