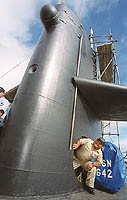 Chief Petty Officer Arnulfo Agpaoa, of 'Aiea, emerges from a hatch in the sail of the submarine USS Kamehameha. The only submarine named after a Hawaiian king is being decommissioned. See story.

Richard Ambo • The Honolulu Advertiser
Posted at 3:59 p.m., January 10, 2001
BREAKING NEWS
IRS to get $29 million in Kamehameha Schools settlement
Kamehameha Schools announced today it has agreed to pay $29 million to the Internal Revenue Service to settle claims the tax agency had against the charitable trust's for-profit businesses through June 1998.

Posted at 9:40 a.m., January 10, 2001
Suspects arrested in storeowner murder case
Honolulu police last night arrested four Kaneohe men and were looking for a fifth man in connection with the murder of a 45-year-old Kaneohe liquor store owner who was found in a Waimanalo trash bin on Christmas Day.



State's tobacco payout reduced
The state is getting less money than expected from the settlement with tobacco manufacturers, putting a squeeze on the health promotion programs Hawai'i plans to finance with the money.

Governor's tax cut plan raises some eyebrows
Gov. Ben Cayetano's proposal to again cut state income taxes, to a top state income tax rate of 7.25 percent, is drawing a skeptical response from some quarters.

USS Kamehameha being scrapped
After 35 years of service, the only submarine named after a Hawaiian king will steam for the scrap yard this year.

| | |
| --- | --- |
| | Find what you need with our searchable TGIF listings of events, movies and restaurants. Check out our year 2001 planner, a month-by-month glimpse at the year's upcoming events. |
Honolulu Advertiser SPECIAL REPORT
| | |
| --- | --- |
| . | In a special report, "The State of the Hawaiian," The Advertiser examines the impact of political decisions on the status of Hawaiians and the soul of the 'ohana. |