Associated Press

NEW YORK - Online brokerages once competed fiercely to outdo each other's irreverent come-ons, but that was before the bull market fell on tougher times. Now the leading e-brokers are vying to remain viable as their customers slow down what had been a frenetic trading pace.

"It used to be exclusively about cheap trades, but customers now want broader product offerings, advice, different access points for their money and maybe even bank branches," said Matt Vetto, an analyst with Salomon Smith Barney.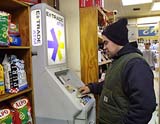 Carl Ventura of New York uses an E*Trade automatic teller machine inside a small grocery store in New York City. Leading e-brokers are trying to remain viable as their customers slow their trading pace.

Associated Press photo

Push-the-envelope advertising has been toned down, replaced by more conventional marketing. And brokerages are expanding their services and beefing up technology in an effort to stand out.

No middlemen, the latest technology and quicker trades at the best prices, promises an ad for Datek Online. Cybercorp.com, a Charles Schwab & Co. subsidiary, uses black and white footage of Bruce Lee to compare trading to hand-to-hand combat.

Schwab ads also tout its Webshops - educational seminars that introduce customers to online trading. Fidelity Online Brokerage tells customers that wireless stock quotes are in their future, while an Ameritrade ad contrasts an assured young woman using its research and trading tools with a condescending, stodgy traditional brokerage client.

"They have all gone from brand awareness to brand message," said Scott Appleby, a technology analyst at Robertson Stephens. "The ads of the past were really eye-catching, but now they're moving to a message of value - why you should invest with them instead of someone else."

Wall Street has struck a wait-and-see posture. The stock prices of some of the biggest e-brokerages - Schwab, E*Trade Group Inc., TD Waterhouse Group Inc. and Ameritrade Holding Corp. - have fallen 60 percent or more in the last year, and the short-term picture isn't expected to improve soon.

The market downturn has also brought cost control. Schwab recently imposed temporary salary cuts for 750 employees, including its two chief executives, and Ameritrade said it would lay off about 300 workers to cut expenses because of the drop in trading activity.

"An overall down market causes people to trade less," said Glenn Schorr, an analyst with Deutsche Banc Alex. Brown. "That means lower trading revenues, which causes online brokerages to pull in marketing expenses … and that produces even lower growth rates for new accounts."

Still, a number of investment firms remain bullish on the industry's prospects, particularly because they don't see the supply of potential consumers running out any time soon.

"A lot of the growth in this industry is going to come from mainstream America - people who don't have brokerage accounts today or haven't done a lot of investing · and traditional brokerages no longer have an advantage over online trading," said Greg Smith, an analyst with J.P. Morgan H&Q.

Smith's research shows that although the number of online trades dropped 12 percent between the second and third quarters of 2000, the most recent data available, they were still up 81 percent from the same time the previous year.

"Things should start to look up," he said. "The first quarter is the time of year when people invest their year-end bonuses, reposition their portfolios and open IRAs."

Debate remains about what online brokerages need to do to make money in an environment where trading volume is unpredictable.

E*Trade, for example, has rolled out a national ATM network, and plans a New York storefront with some customer service. The online brokerage also ramped up its investor research tools and has acquired a mortgage loan business.

Others, including CSFBdirect.com, formerly DLJdirect.com, are targeting more affluent accounts with promises of top-level customer service, research and access to initial public offerings. The hands-on attention mirrors what traditional brokerages have done for years to attract business.

"Today our average account size is about $60,000 per customer. Now we're targeting the higher-end investors with assets over $100,000," said Glenn Tongue, president of CSFBdirect.com.

Looking overseas for new customers is another trend, although analysts aren't convinced that's a long-term solution, given currency volatility and cultural differences.

There are other niches, too. Datek has focused on technology upgrades that target the most frequent traders, including real-time trading and allowing customers to direct orders to the market maker or electronic trading network of their choice. Ameritrade boasts of low cost and speedy trades.

Then there's competition from traditional brokerages, like Schwab and Fidelity, that already have the physical base. They are using their online offerings to hang on to customers interested in Internet trading who might otherwise go to other e-brokers.

"Our online customers are also our offline customers," said Tracey Esherick, executive vice president at Fidelity Online. "They're using the online area for some routine transactions and stock analysis, but they're still using our phone representatives and sitting down with branch representatives."