By Will Hoover
Advertiser Staff Writer
It had more lights, bells and whiz-bang kinetic energy per square inch than any icon America ever produced. It illuminated otherwise darkened pool halls and taverns. Mothers feared its demonic attraction. Children smashed their piggy banks to feed it offerings.
Its power was old-fashioned gravity, mechanics and electricity, but the lure was a 1-inch silver ball under glass that was at once friend and foe.
It was pinball. And for seven decades, beginning in 1929, it was a ringing, flashing metaphor for what America both craved and mistrusted: Fun and games.
How could anything so sexy have died?
Yet it did, according to Wired magazine, which delivered the eulogy last February:
"Pinball, a cultural technology that has swallowed our coins since the Great Depression, is dead," Wired reported.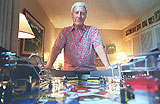 Don Beckwith of Waikiki ponders a move on a Stern-made "South Park "pinball game, one of the most popular pinball games on the market today. He bought his first pinball machine nearly 50 years ago.

Richard Ambo • The Honolulu Advertiser


News that every major coin-operated game manufacturer had pulled the plug on pinball has come hard to local pinball addicts. Among the mourners is Kailua psychiatrist and "game freak" Mark Stitham, who describes the game as nothing less than an American art form, comparable to jazz.

"This is awful," said Stitham, who bought his first pinball in 1976 when he was in his 20s, and who owns an "Earthshaker" machine made in 1989 by the Williams company. "It's tragic."

Like other devout players, Stitham speaks passionately about the zen-like "experience" that only pinball can fulfill.

"First of all, it's physical," he said. "That ball is real! You can crack the glass with it. No matter how they try, they can't simulate a pinball machine on a computer. That's because you're actually maneuvering a steel ball skillfully with the flippers.

"The good players become part of the machine. You and the machine are moving together. It's a visceral experience that no pixels dancing on a screen can ever hope to match."

Don Beckwith of Waikiki put it in more basic terms.

"I just like the feel of the things," he said. Beckwith bought his first personal pinball machine in 1952 when he was a freshman in college, and to this day he subscribes to pinball magazines, has a pinball scrapbook and attends annual Mainland pinball expos.

Although Beckwith, a retired Hollywood film editor, has owned about a dozen machines over the years, he never outgrew the need to pursue his hobby in public places.

"They were fun to play in bars," he said. "You don't find pinballs in bars much anymore because the machines are too difficult to maintain. You have flippers that break and rubbers that snap, you've got balls that get stuck, play fields that get dirty and light bulbs that burn out."

By contrast, coin-operated video games are practically maintenance-free.

There's another reason you don't find pinballs as often these days.

"They just don't make as much money anymore," said Hank Kuhn, general manager of the TILT Family Entertainment Centers on O'ahu and the Big Island. "They're not as popular today because kids don't want to play pinball. They'd rather play computer games."

Kuhn, a lifelong pinball player who has a "Simpsons" of his own, says at one time TILT had 10 pinballs in one location. Now the company's entire Hawai'i collection totals five. The irony that "tilt" is a pinball term is not lost on Kuhn.

Kuhn, Beckwith and Stitham are part of a growing faction that have pinball machines at home. How many are out there is anybody's guess. Nobody tracks this disenfranchised segment of society. Yet.

But then, pinball has always existed on the fringes.

Throughout the 20th century, the game was dominated by three companies, all headquartered in Chicago: Gottlieb, Williams and Bally. These firms created and refined the innovations commonly associated with the pinball play field, such as tilt mechanisms, flippers, kick outs, spinners and thumper-bumpers.

Other pinball makers, such as the Chicago Coin company, and later Midway, Data East/Sega and Stern, were lesser players. For more than a half century, pinball remained a staple at beer joints, bowling alleys and billiard halls everywhere. During the '70s, '80s and '90s, no arcade was complete without a bank of pinballs.

But during the '90s, there were also signs that the entire industry was about to go tilt. One company after another faltered or merged with another. Gottlieb, once synonymous with pinball, went out of business. Williams bought Bally, making it what one writer dubbed "the Microsoft of pinball," only to announce late in 1999 that it was getting out of the pinball-making business altogether and concentrating on slot machines.

In one decade, every big-name pinball manufacturer ceased production. Industry insiders, for the most part, seemed to agree with Wired magazine's "pinball is dead" assessment.

There is one notable hold-out. Stern Pinball Inc. continues to operate. The company, which produces fewer than 12,000 machines a year, is tiny in comparison with Williams, which was turning out more than 60,000 pinballs annually in the early 1990s.

"We're the only pinball manufacturer on the planet," said Gary Stern, whose father, Sam, was a pinball pioneer who once owned Williams. Stern says his company knows how to reach its target audience, 18- to 35-year-old males, 60 percent of which are Americans.

He says pinball cannot be laid to rest as long as his Melrose Park, Ill., outfit stays in business. And it will, he insists, because there's room for one pinball maker in a market that still has legions of loyal followers worldwide.

Stern has a plan to keep pinball alive and healthy by making the game more enticing to casual players. Pinball had become too complicated for average folks, he said. So his company makes "self-educating, 'Pavlovian pinballs,'" that are less "service intensive," and which have broader appeal to males and females alike. (Women play his company's "South Park" machine because it's outrageously funny, the characters are familiar and it's easy to figure out, he said.)

Andy Kim, 29, fits Stern's target audience.

"I'd rather play pinball than video games," said Kim, whose favorite machine is "Star Wars: Episode I," a hybrid pinball and video game concept that was Williams' last gasp to salvage its pinball division.

Although the campaign failed, Randy Matsumura, director of operations at Hawaiian Brian's Billiards on Kapi'olani, said his "Star Wars" game has been profitable.

Just not profitable enough. Where Hawaiian Brian's once had an entire room devoted to pinballs, it is now down to only four machines. The rest of its arcade devices are video games and shooting-type attractions that pay off in tickets worth prizes.

"I don't know if pinball is dead," said Matsumura. "I know with pinball you're satisfying a small market. But we've got some very loyal pinball players who absolutely love the game."

Matsumura, who was with the Fun Factory before going to Hawaiian Brian's, has been in the coin-operated game business for nearly three decades. He said that before video arcade games blasted onto the scene in the late 1970s, pinball was a true profit-maker. But those old pinballs were low-tech mechanical boxes that cost a few hundred dollars each and could usually be easily repaired.

The pinball machine of the '90s cost $3,000 or more and came equipped with elaborate computer-generated gizmos that required specialized equipment and expert know-how to repair.

"Pinball makes so-so money, and is very high-maintenance," said Matsumura. "A video game turns a bigger profit at a fraction of the cost to the arcade."

But Stern said arcades themselves are a shrinking business. Pinball's value in the 21st century will be as an auxiliary attraction at venues such as lounges and multi-plex movie theaters.

In France, which accounts for 18 percent of Stern's market, pinballs are a regular fixture of street cafes. People don't go to cafes to play pinball, said Stern, but the machines, with their blinking lights, are an inviting feature of the ambiance, whether they are being played or not.

A secondary market, according to Stern, is the thousands of die-hard pinball enthusiasts who have enough disposable income to buy a new pinball for their basement game room or den. People such as Beckwith, who recently purchased a new "South Park" machine, now the world's most popular pinball.

"I have no idea if pinball is dead," said Beckwith. "These things run in cycles. Pinball was on its way out back in the early 1980s when 'Space Invaders' video came out. After that, pinball had a field day for a while."

It may be premature to perform last rites. Recently, Clayton Jin and Erina Yatsu, both 11-year-old Washington Intermediate students, had the following discussion at Hawaiian Brian's.

"I just don't like pinball," sniffed Jin. "It's a waste of money."

Yatsu, perhaps representing the wave of the future, disagreed.

"I like it," she argued. "It's fun. I like shooting a real ball and not a picture of one on a screen."