1930s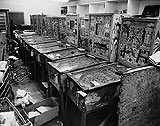 In one of the sadder chapters in Hawai'i's pinball history, Honolulu police seized these machines in 1964 during gambling raids. The 1950s were the golden age of pinball, while video games began making inroads in the market in the late 1970s.

Advertiser library photo • Jan. 19, 1965


Though pinball had existed since the 1870s, the 1930s saw lights and sound, creating the form we know now.

1940s

Manufacturers add a decorated background, giving the box the look still familiar on pinball machines today. Because of pinball's ties to gambling, New York City, Chicago and Los Angeles ban the games.

1948

A major pinball feature is developed: flippers. The Chicago-based Gottlieb company adds a

series of tiny flippers to a game called "Humpty Dumpty." Soon all pinball games adopt them.

1950s

The golden age of pinball. The games flourish as manufacturers experiment with different types of flippers, lights and new styles of decoration.

1960s, '70s

Pinball has its ups and downs, but remains generally strong. In the late 1970s, video games are introduced and begin taking market share away from pinball.

1977

Pinball moves from purely mechanical play toward solid-state electronics. Family-owned Gottlieb, which specializes in "finesse" games, is a notable exception and begins to lose out to the fancier gadgets.

1988

Williams buys out the Bally game company, leaving only three pinball manufacturers: Williams, Gottlieb and Data East.

1994

Data East is bought by Japanese-owned Sega Enterprises Ltd.

1996

Gottlieb, crippled by its failure to catch up to more innovative companies, and unable to save itself with video games, bows out of the pinball business.

1999

Sales fall to about 10,000 units worldwide. Stern buys Sega's pinball operations. Williams' Pinball 2000 offers the first innovation since 1991, but it's not enough. Williams quits pinball, leaving only Stern.