By Victoria Gail-White
Special to The Advertiser
If you were to ask any of the 18 well-known invited artists their feelings about love, you might get a long, circuitous discourse or a shrug. However, if you want to take a shorter route to excavating that multifaceted emotion, visit the Contemporary Museum's cafe to see "Quality Hearts III." There you will find all the tenderness, torture, fragility, merriment, exasperation and gloom that love arouses - and just in time for Valentine's Day.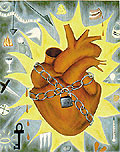 "Heartfelt." By Lynda Hess, oil on canvas

"You warm the cockles of my heart," a digital print by HanSolo, opens the show with a bright vertically striped heart mounted by a butterfly and three shells warmed by a schematic of radiators and a vine of flowers.

Gelareh Khoie's "Satan," an oil on canvas, depicts how hot it can get. The pyrography of Deborah Nehmad's "Let Me Count" has a deep red underlining amid numbers burnt onto an embossed paper heart. Esther Shimazu's "Burnt Around the Edges" low-fired stoneware head offers a heart for the taking, slightly burnt, from a pair of perfectly delicate hands.

The photographic, chromogenic and silver gelatin prints of Lena Ching, Gaye Chan and Kelly Miyashiro show silent passions running deep.

A black and white print on acetate by Sally French, "While diving for airborne hearts, Cupid free-falls past his pals Devil Duck and Mick da Monk/Oh No! The heart has slipped away! Pox on that greasy chicken leg he had for lunch," gives us the dialogue in the titles and leaves the interpretation to the viewer.

The pristine "Heart (from the Vessels series)" of Jacqueline Lee walks on eggshells, literally, in a white and white construction of a heart made of eggshells, latex and leather. The "Layers of Passion" handmade paper fabrication by Liz Train speaks clearly of resplendent aubergine, gold, magenta and flaming orange with copper screen and beads molded in.

There is foolishness to love, as in "Jester" by Paul Levitt and "Heart of Fools Gold" by Debra Drexler. And "Labor of Love" by Katherine Love depicts a black rhinoceros beetle hauling a gigantic, red-quilted heart on its back. Her husband Charles Cohan's "Untitled" collograph and woodcut on paper has a sinewy-textured appearance in sepia and blood tones.

'Quality Hearts III'
Through March 4
The Contemporary Cafe at the Contemporary Museum
526-1322

Lynda Hess' "Heartfelt" oil on canvas illustrates a chained heart bordered by symbols of what disrupts a heart. Ever so lightly, "Heart of Palms" by Doug Britt seems to flow in the breeze. More heavily, Tae Kitakata's "Lost Horizons" book is covered in lead, glass, makeup and false eyelashes.

Lori Uyehara's "On Common Ground," a mixed-media wood creation of carved wooden hearts on a limb, puts quality hearts into the realm of equality. Out on a limb - isn't that where our hearts seem to take us?

Editor's note: Advertiser art critic Virginia Wageman is on leave until Feb. 11; artist, teacher and former gallery owner Victoria Gail-White is sitting in. In the next two weeks, we'll report on an exhibit and the new gallery at the Honolulu Academy of Arts.