By Zenaida Serrano Espanol
Advertiser Staff Writer
If you and your children think science is a boring subject, the folks at Bishop Museum hope a new exhibit will convince you otherwise.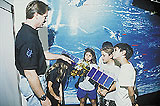 Joe Solem • Bishop Museum

"X-treme Science! Exploring Oceans, Volcanoes and Outer Space," which opens Saturday, offers fun for the whole family. Displays simulate a crawl into a submarine situated on an undersea volcano, for example, and a ride on a rover over the surface of Mars. "We want the visitors to gain an appreciation and pride for what kinds of exciting scientific explorations are taking place right here on Hawai'i," said Kevin Johnson, project manager of the exhibit (who is shown above with some kids).

"X-treme Science!", which is financed by NASA, is the largest exhibit ever developed entirely in-house at the Bishop Museum. Hours: 9 a.m.-5 p.m. daily through May 28. General admission to the museum is $14.95 for adults, $11.95 for children ages 4-12 and free for ages 3 and younger. Some discounts are available. Call 847-3511.