By Catherine E. Toth
Advertiser Staff Writer
Ask Yun Soong Chock Jim a question, and she'll answer with an anecdote.
With her adventurous life, it's no wonder why.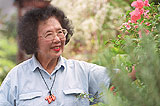 Yun Soong Chock Jim of Manoa has earned the title of Millennium Chinese Citizen of the Year, an award conferred by the United Chinese Society. The retired schoolteacher, 81,is a volunteer with charities, Chinese and cultural organizations, and education-related endeavors.

Deborah Booker • The Honolulu Advertiser

At 81, Jim has seen the world with her husband, a retired plastic and eye surgeon whom she has been married to for 55 years. From a month-long expedition to Papua New Guinea, in 1973, to a cruise to Antarctica last year, the Jims hunt out opportunities to see the world for themselves.

"It's important to experience," said Jim, excitedly describing their South Pacific jungle safari, where they avoided headhunters and drank polluted water. "Firsthand experience is always the best. It was really wonderful, really exciting."

A retired high school biology and chemistry teacher, Jim always finds something worth learning on her adventures: "I learned that everybody should learn to take it, to take whatever life gives you," she said, referring to the grueling month in New Guinea. "You have to learn to work together and not be fussy. We all need to learn to work together."

She balances her fervor for adventure with her overflowing generosity, volunteering at various charities, local Chinese and cultural organizations, and education-related endeavors.

Her overabundance of energy, all packed in a 4-foot-10 frame, is one reason the United Chinese Society named her the Millennium Outstanding Chinese Citizen of the Year.

It's an honor she feels undeserving of, especially because last year's recipient was U.S. Sen. Daniel Akaka.

"I'm no senator," said Jim, the seventh recipient of the award and the first woman to earn the title. "I don't know why they picked me."

But Henry Lee, executive secretary at the United Chinese Society, thinks she's a perfect fit for the award. The award honors people who have made contributions to the local Chinese community and the Hawai'i community, and philanthropic contributions to community organizations.

"She's so energetic," said Lee, 50, who has known Jim for many years. "Because she was a schoolteacher, she always teaches people in every organization she's involved in. She uses her teaching background to get things done. She's a very hard worker. She does things well."

Growing up as a tomboy

Jim's spirit of adventure began at a young age, growing up in pre-war Hilo. Her parents had moved to Hawai'i from China and ran several stores in town, including a general store and restaurant. The youngest of 10 children born in Hawai'i, Jim scrambled to keep up with her siblings, seven of whom were boys. Instead of learning to sew and cook, Jim climbed trees, played marbles, boxed and collected bugs.

"My embroidery work was always brown (from dirt)," Jim said with a rascal smile.

I

Yun Soong Chock Jim
Age: 81
Hometown: born in Hilo, but now lives in Manoa
Family: husband Vernon, retired plastic and eye surgeon; four daughters, eight grandchildren
Background: retired chemistry and biology teacher at McKinley High School; former president of several teachers organizations and cultural associations; volunteer at the Lyon Arboretum Association, the Hawai'i State Science and Engineering Fair, Chinese Chamber of Commerce, American Cancer Society, and various Chinese and cultural associations
Honor: earned the Millennium Outstanding Chinese Citizen of the Year Award, given by the United Chinese Society. This is the first time a woman has won the award, now in its seventh year.
Quote: "Don't give up. If you want something, it can be done. Anything can be done."

t was no surprise, then, that Jim followed in her brothers' footsteps. Six of them went into science-related fields: two in medicine, two in dentistry, one in pharmaceuticals, one in optometry.

"Since my brothers were so science-prone, I went into science, too," said Jim, who earned her bachelor's and master's degrees in biology from the University of Chicago, where she met her husband, Vernon. Ahead of her time, she was one of just a few women at the university working toward master's degrees, especially in science.

There's something still tomboyish about Jim, who received visitors one recent Tuesday afternoon in a blue denim shirt, comfortable cotton pants and stylish Teva sandals.

Her life in Hilo is a constant source of stories. From the Hilo tsunami of 1946 that carried her family's store and home across the street, to helping out at her father's general store, Jim shares her memories with the excitement of a child opening presents at Christmas.

"At least I have something to look back on," she said.

But it's her parents' advice that Jim does more than just look back on. She has always tried to live by the wise words of her father: "He said you should be somebody, don't be ordinary, and always help people."

Garden genius

Jim's yard in Manoa illustrates her interest in science. She knows all the English plant names by heart, and offers advice about growing the vegetables, herbs and flowers that surround her modest home. Almost assertively, she plucked Surinam cherries from a tree in her carport. "It's high in vitamin C," she said matter-of-factly. "Take some. Don't hesitate. When people say take, take."

Her garden could be a vegetable aisle in the supermarket; eggplant, cherry tomatoes, limes, okra, beans and bananas are just some of her crops. She expertly talks about common garden pests and proper cooking methods.

Her interest in botany led her to the Lyon Arboretum Association, where Jim, a former president, is still a volunteer. To keep her busy, she volunteers at the American Cancer Society, Chinese Chamber of Commerce and the Hawai'i State Science and Engineering Fair, to name a select few.

"I don't sit and think about what I've missed (in life)," Jim said. "Whatever I read about and think is interesting, I pursue. If I plant something and it doesn't grow, I do something about it. If there's something new, I think, 'What is this? I should know about it.'"

Her contribution to the community comes in both large and small ways. From organizing a plant sale to helping with the Narcissus Queen Pageant to making phone calls to find judges for the state science fair, Jim believes that helping others really helps herself: She has learned so much about people, culture, places and history through volunteering.

"I hate to sit back and do nothing," she said.