WASHINGTON - George Walker Bush was inaugurated the 43rd president of the United States in a chilling drizzle Saturday, promising he can ease suffering and heal the wounds of warring ideologies if Americans will follow the guidance of "a power larger than ourselves" and be "citizens, not spectators."
"Compassion is the work of a nation, not just a government," Bush said at the powerful and colorful ceremony that marked the 54th presidential inauguration.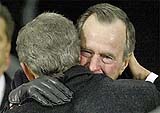 President Bush, left, embraced his father, former President George Bush, after being sworn in yesterday.

Associated Press

In a speech tinged with JFK's inaugural sentiment of "ask not what your country can do for you, ask what you can do for your country," Bush, a former governor of Texas and son of a president, warned that lofty accomplishments could grow only from the united efforts of the governed and the government.

"When this spirit of citizenship is missing, no government program can replace it. When this spirit is present, no wrong can stand against it," he said.

The scene on the inaugural platform on the West Front of the Capitol exuded familial warmth. Looking on were the new president's father and mother. And Bush's wife, Laura, and twin daughters, Jenna and Barbara, held the same Bible used by George Washington and by President Bush as the new president took the constitutionally prescribed oath of office.

Bush's raised right hand punctuated nearly every word of the oath, slightly but deliberately pushing the air as he promised to "the best of my ability preserve, protect and defend the Constitution of the United States."

Bush, the first president in 112 years to win the presidency without winning the popular vote, made no direct mention in his inaugural speech of the fierce political and legal battle he had to wage over Florida's electoral votes. But he thanked former Vice President Al Gore at the outset "for a contest conducted with spirit and ended with grace." Also on the platform was his brother, Florida Gov. Jeb Bush, who helped deliver the winning votes.

Bush's speech entwined the chief themes of his campaign - "compassionate conservatism" and a broader reliance on institutions of faith to address social ills - saying: "Church and charity, synagogue and mosque, lend our communities their humanity, and they will have an honored place in our plans and laws."

Banished from Bush's rhetoric were the anti-government slogans that helped GOP conservatives gain control of Congress in 1994 but served them ill in subsequent elections.

Bush emphasized instead how conservative principles could serve to end suffering - and said America had a history of forever changing itself in the service of expanding freedom and opportunity.

To do so now, he said, required not just relishing prosperity, but putting it to use for good before quietly growing problems blossom into crisis.

"Our national courage has been clear in times of depression and war, when defeating common dangers defined our common good," he said. "Now we must choose if the example of our fathers and mothers will inspire us or condemn us. We must show courage in a time of blessing, by confronting problems instead of passing them on to future generations."

Bush clearly was seeking to reach out to the poor and minorities with his call to pay attention to those who "doubt the promise - even the justice- of our own country."

"Many in our country do not know the pain of poverty, but we can listen to those who do," Bush said, noting at another point that "our differences run so deep, it seems we share a continent, but not a country."

Over and over, Bush stressed that Americans have a moral and spiritual obligation to themselves and their country to look beyond their personal needs and desires.

"Where there is suffering, there is duty," he said. "Americans in need are not strangers, they are citizens; not problems, but priorities; and all of us are diminished when any are hopeless."

Said Bush: "I ask you to seek a common good beyond your comfort; to defend needed reforms against easy attacks; to serve your nation, beginning with your neighbor. I ask you to be citizens. Citizens, not spectators. Citizens, not subjects. Responsible citizens, building communities of service and a nation of character."

Thousands of protesters filled various pockets of the capital to voice their displeasure with the way the election ended - a 5-4 Supreme Court decision that ended further recounts of Florida's votes - and Bush's policies, but did not disrupt the ceremony. "Hail to the Thief," said a number of signs.

A number carried blue signs that read: "Gore. The Silenced Majority" - and some of these had dollar bills taped over their mouths.

Reluctant to step off the stage he has occupied for eight years, Bill Clinton participated in an extended farewell ceremony at Andrews Air Force Base as Bush lunched with members of Congress inside the Capitol.

"I left the White House, but I'm still here," Clinton told the crowd of about 2,500 inside a hangar at the base. "We're not going anywhere."

Two hours and 50 minutes after Bush lifted his right hand to take the oath, his limo pulled away from the Capitol for its slow journey down Pennsylvania Avenue. At that very second, the Boeing 747 that was Air Force One when Clinton was president began to taxi down the tarmac at Andrews, bound for New York, where Clinton and his wife, Sen. Hillary Clinton, will have their primary home.

Presidential inaugurations are a pageant marking the peaceful transfer of power that is the hallmark of democracy, and this one was especially poignant for Bush because it meant taking the reins of power from not just a Democrat, but from Clinton, the man who made his father a one-term president.

Bush noted that in a subtle way at the start of his 14-minute inaugural address. He welcomed those in attendance, starting with "President Carter, President Bush" - lingering on and giving special emphasis and warmth to the words "President Bush."

The new president was unabashedly moved by his ascension to the position that he and the Grand Old Party spent more than two years battling for before the Nov. 7 election - and another five weeks afterward fighting with Gore in the courts. Tears welled in his eyes at the end of his speech.

The demonstrations, regarded as the largest at an inauguration since anti-Vietnam War protesters took to the streets against Richard Nixon's second taking of the oath in 1973, were generally peaceful. As darkness fell, there had been only brief scuffles between demonstrators and police, and only a handful of arrests were reported.

Bush and the first lady stepped out of their car just a block from their parade viewing stand in front of their home for at least the next four years, stretching their legs before settling in for hours of watching marching bands, military equipment and even dog sleds go by.

The couple then headed off to make the rounds at nine inaugural balls scattered around town.

At the Ohio ball, the president and his wife appeared about 10 p.m. to raucous applause.

Bush said he was grateful to his friends, Cincinnati investors William O. DeWitt Jr. and Mercer Reynolds III, for being co-chairmen of the Presidential Inaugural Committee and raising more than $30 million in less than a month.

"We called upon Ohio to make sure everything went well," he said.

Vice President Dick Cheney's wife, Lynne, made light of the soggy, cold weather.

"We Republicans don't even need sunshine to have a first-rate inaugural," Lynne Cheney said.

Earlier in the day Bush's formal address was a somber and heartfelt tribute to the promise of democracy and a warning of how cynicism and self-interest could foil unity, but he was much more blunt and direct in brief remarks to members of the 107th Congress during the traditional post-inaugural lunch in the Capitol.

"Expectations in the country is we can't get anything done. People say, 'Well, gosh, the election was so close, nothing will happen, except for finger-pointing and name-calling and bitterness.'

"I'm here to tell the country that things will get done, that we're going to rise above expectations, that both Republicans and Democrats will come together to do what's right for America. ... Let's let it happen," he said to broad applause.

Letting it happen is going to take considerable work.

While the House and Senate are nominally under the control of the Republicans - giving the GOP control of both Congress and the White House for the first time since 1954 - Congress essentially is divided evenly between the two parties.

But in a bow to bipartisanship and to give Bush a warm sendoff, the Senate confirmed seven of his Cabinet picks by voice vote immediately after the lunch, including Secretary of State Colin Powell, Secretary of Defense Donald Rumsfeld and Secretary of the Treasury Paul O'Neill.

The persistent but light rain dampened everything in town except Republican enthusiasm. Temperatures hovered at 36 degrees, but the weather - while uncomfortable - was a far cry from the rain, sleet and snow forecast.

Bush relied more heavily upon symbols and lofty goals Saturday than specific policy, but he stressed the need for improved public education several times and mentioned several other legislative priorities.

His speech was interrupted by applause at least eight times, but the true roar of approval from the predominantly Republican crowd came when he promised: "We will reduce taxes." The only other cheers met his vow to "build our defenses beyond challenge," another traditional Republican rallying cry. Applause was polite at other points, perhaps muffled because so many in the crowd wore gloves.

Bush, who promised during his campaign to be more restrained with the use of American troops to help settle or prevent foreign conflicts, promised that "we will defend our allies and our interests. ... We will meet aggression and bad faith with resolve and strength."

Bush ended his speech by noting that Thomas Jefferson received a letter soon after the Declaration of Independence was signed asking, " Do you not think an Angel rides in the Whirlwind and directs this Storm?"

"We renew that purpose today: to make our country more just and generous; to affirm the dignity of our lives and every life," Bush said. "This work continues. The story goes on. And an angel still rides in the whirlwind and directs this storm."