A deadly stretch of Kamehameha Highway north of Wahiawa is scheduled to be equipped with a traffic signal by the fall of next year.
The traffic light will be placed at the intersection of Kamehameha Highway and Kamananui Road, which is part of a wider section outside of Wahiawa where numerous fatal and serious auto accidents have occurred over the years. Wilikina Drive and Kamananui Road, which heads toward Hale'iwa, intersect at a Y-shaped intersection with Kamehameha Highway near the Pineapple Variety Garden and Poamoho Camp.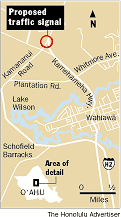 Community leaders and police hope the traffic light will cut down on accidents in the area by discouraging speeding.
"Ever since I was a kid, we've had numerous accidents out there," said Senate President Robert Bunda, who represents the Wahiawa-North Shore district. "You have traffic coming from all these different directions - Schofield Barracks, Wahiawa, Hale'iwa, Waialua - that makes it a traffic hazard."
In the past two years, six people have been killed in motor vehicle collisions in that particular area outside of Wahiawa. The most recent accidents happened:
Last October when two Schofield Barracks soldiers were killed when their speeding Honda struck an oncoming truck on Kamananui Road.
Last July, when six people were hurt at that intersection when a 911 Porsche struck a road sign and swerved into a car carrying a family of five. Speed and alcohol were factors.
State transportation officials are requesting an additional $200,000 during this legislative session to complete the project, but the extra money may not be needed because the project's original design may be scaled down. State lawmakers already approved $400,000 in design and construction money for the project.
"We were originally going to put in an additional turn lane, but we're just thinking of installing a traffic signal for now," said Karl Kunishige of the state transportation department.
Bids for the project would be advertised in January 2002, with construction beginning in June.
"That triangle area is hairy for even us local drivers, so you can imagine what its like for those not familiar with the area, especially the tourists," said Sgt. Fay Tamura of the Wahiawa station.
Tamura said numerous accidents also occur a half-mile away at the intersection of Wilikina Drive and Kamananui Road. Two Chaminade University students were killed there in 1999.
Wahiawa Neighborhood Board chairman Ben Acohido said his board, the Wahiawa Community & Business Association, and police the last three years have requested a traffic light at Kamehameha Highway and Kamananui Road. He guesses the roads were probably designed and built during the plantation era of the 1930s and 1940s.
"It was a different era back then," Acohido said. "Traffic is going at a much higher rate of speed now, so there's less time for drivers to react to oncoming traffic."