By Ann Miller
Advertiser Staff Writer
Ernie Els shared the lead yesterday at the Sony Open in Hawai'i for as long as it took Brad Faxon to line up his latest eagle putt. Faxon was done sharing, the moment his third eagle in as many days landed.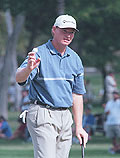 Ernie Els shot a 5-under 65 and shares second with Tom Lehman, three strokes behind leader Brad Faxon after three rounds.

Gregory Yamamoto • The Honolulu Advertiser


Faxon takes a three-shot advantage over Els and Tom Lehman - two golfers ranked in the world's Top 10 - into today's final round at Wai'alae Country Club.

Faxon also went into the final round of the 1996 Open with the lead. Five hours later, he had lost a playoff with Jim Furyk. Furyk birdied his last three holes yesterday to tie Paraguay's Carlos Franco for fourth, seven shots back.

Faxon hadn't made a cut here since, until this week. But he has won three tournaments and says he is playing "a lot better now" than five years ago. His scores confirm it.

After opening with a pair of 6-under-par 64s, he shot a what-me-worry 67 yesterday, with the weight of a five-shot advantage and whipping tradewinds tailing him from the first tee.

Faxon is at 15-under 195 - the lowest 54-hole total in his career. Paul Azinger set the tournament record last year, at 19 under. Els and Lehman shot 65s to climb to 12 under. Davis Love III shot the day's only other 65, to climb from 39th to sixth.

"There were some pretty good players at 7-under par (Friday)," Faxon said. "I knew somebody was going to come out of there and shoot a good round."

Faxon, who led the PGA Tour in putting three of the past five years, salvaged five pars yesterday with one-putts. His birdie putts came from 35 and four feet, and he drained a 15-footer for eagle on the ninth.

It was his fifth eagle in seven rounds this season. He had four in 96 rounds last year.

"The eagle streak is alive," Faxon joked.

There has been nothing funny about his game this week.

He is abusing Wai'alae's two par-5 holes to an 8-under-par tune - despite parring the last, and easiest, yesterday - and his putting is poetry in motion. Ask Lehman.

"I've watched him putt quite a bit," he said of Faxon. "When I play with him I try to see what he does. He does a few things extremely well. I just try to understand what he's doing, feel what he's doing, then emulate that.

"It looks like he releases the putter head so well. His speed is perfect almost all the time. He never forces a putt, or blocks it, he just rolls it, flows right through it. The best putters do that. Tiger does it, Faxon does it, Nicklaus did it."
Tom Lehman blasted out of a greenside bunker at the par-5 ninth hole, during yesterday's third round of the Sony Open in Hawai'i

Gregory Yamamoto • The Honolulu Advertiser


Faxon's eagle ended Els' charge for the day. Faxon kept his cushion through the back nine, pulling ahead by four with his birdie on the 14th. He parred in, while Els birdied the 16th and missed very makable birdies on No. 15 and the final two holes; Lehman barely missed an eagle on the 18th to catch Els.

"The finish screwed me up a little," Els admitted. "I could have made a couple more coming in, and I was a little disappointed coming off the 18th only picking up one in the last four holes when I really could have picked up four. I didn't play a flawless round of golf."

It still beat last week, by a bunch. Els let a huge advantage blow away on the back nine at Kapalua last Saturday in the Mercedes Championships, admitting he allowed a 12th-hole bogey mess with his mind. He shrugged off yesterday's lone bogey at No. 14, and the uncharacteristic absence of his remarkable rhythm that surrounded it.

"I didn't quite get as hung up on it as last week," Els said. "I played myself out of it and played very well coming in. Some days it gets to you, some days it doesn't.

"I would like to think I've really broken through. I've had good chances, obviously, the last two weeks. There's a lot of work to do tomorrow, but I'm where I set out to be and that's all you can hope for. The way Brad played the first three days, there's not much you can do. He played wonderful. He would be leading anywhere."

Lehman echoed those thoughts, and believes it could become a three-man sprint in today's final leg.

"The tournament is obviously in Brad's corner," he said. "Ernie or myself could shoot a really low round. We're definitely within reach. If anybody in our group plays well at all, the guys in the next group have no chance."