By Dayton Morinaga
Advertiser Staff Writer
On a five-minute do-over, the Hawai'i men's basketball team defeated San Jose State, 65-64, in overtime last night.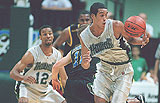 Hawai'i's Phil Martin scoops up a loose ball against San Jose State as teammate Ricky Terrell looks on during the first half. The Rainbows beat the Spartans, 65-64, in overtime.

Cory Lum • The Honolulu Advertiser


A crowd of 4,517 at the Stan Sheriff Center watched the Rainbows improve to 8-8 overall. After an 0-3 start in the Western Athletic Conference, they have won two in a row. The Spartans, who also lost to the Rainbows in overtime last season, fell to 8-8 and 0-5.

After failing to score in the final 5 minutes, 20 seconds of regulation — and thus blowing a 10-point lead during that stretch — Hawai'i edged San Jose State, 9-8, in the extra period.

"It was scary," said freshman forward Phil Martin, who led Hawai'i with 21 points and eight rebounds. "I don't really like overtimes, but that's when you have to step it up and suck it up."

To be sure, the Rainbows shot 3-for-4 from the field and 3-for-3 from the free throw line in overtime. Guard Predrag Savovic scored four crucial points in overtime, moments after missing three consecutive free throws late in regulation.

"He makes those three, the game's over," Hawai'i coach Riley Wallace said of Savovic's misses with 1:45 remaining.

Savovic compensated with two free throws midway through overtime that gave the Rainbows a 61-60 lead they would not relinquish. Andre Valentine scored all eight of the Spartans' overtime points.

Although the Spartans entered the game as the WAC's best defensive team, it took a defensive stand by the Rainbows to clinch the victory.

With UH ahead 65-64, a shot by San Jose State's 6-foot-1 Mike Garrett was blocked by 6-10 Hawai'i center Troy Ostler with two sec-onds remaining. The Spartans retained possession, but Cory Powell missed an off-balance shot at the buzzer.

"When the guy drives (to the basket), our plan is to have one big man come and trap," said UH guard Ricky Terrell, who was defending Garrett on the final possession. "I was forcing him to go one way (left), and I led him into the trap."

Ironically, the Spartans' defense did most of the trapping during the game, especially in the second half.

The Spartans shot a dismal 26 percent (6-of-23) from the field in the first half, and trailed 30-21 at halftime. They rallied in the second half behind a zone defense that constantly double-teamed Ostler.

"When they pack in a zone like that, you have to have somebody step up and knock it down from outside," Wallace said. "And we didn't have anybody do that."

As proof, the Rainbows were 2-for-13 from 3-point range, including 0-for-6 in the second half.

Still, Hawai'i led by as many as 12 in the second half, and seemed to be in control when Nerijus Puida scored on a layup that put the Rainbows ahead, 56-46, with 5:22 remaining.

"We just didn't execute when it got down to the wire," said Terrell, who played a season-high 33 minutes in place of ineffective starter David Hilton. "The closer the score got, I think the more nervous our team became."

San Jose State, which trailed for 39 of the 40 minutes of regulation, finally caught Hawai'i at 56 on Garrett's 3-point shot with 1:21 remaining. Each team missed potential go-ahead shots after that to force overtime.

Savovic finished with 16 points, although Wallace said, "he wasn't with us tonight, mentally." Ostler added 11 points and seven rebounds. Terrell contributed five points, including a key basket late in overtime.

Garrett led the Spartans with 21 points, including 12 in the second half. Darnell Williams contributed 13 points and 10 rebounds before fouling out early in overtime.

Hawai'i will play its next WAC games on the road: at Rice on Thursday and at Tulsa on Sunday.