Advertiser Staff
I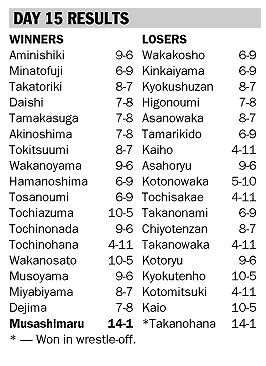 n a battle of yokozuna (grand champion), Takanohana defeated Musashimaru in a wrestle-off today to capture the New Year's Grand Sumo Tournament in Tokyo.
Takanohana's attempt at a perfect 15-0 tournament was derailed by Musashimaru (Wai'anae's Fiamalu Penitani), who easily pushed Takanohana off balance and threw him down, leaving both wrestlers at 14-1.
In the wrestle-off, Takanohana and Musashimaru were locked in the middle of the ring after the initial charge. Takanohana managed to dance Musashimaru to the edge of the ring, where he forced his bigger opponent to step back and out.
Takanohana won his 21st Emperor's Cup after battling an elbow injury last year, which forced him to miss the September tournament.