By Wayne Harada
Advertiser Entertainment Editor
David C. Farmer, an attorney with a rich theatrical background, has been named executive director of the State Foundation on Culture and the Arts.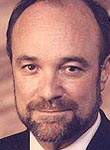 David C. Farmer succeeds Holly Richards as executive director of the State Foundation on Culture and the Arts.

Farmer, an attorney with the law firm of Ashford & Wriston, will assume his new post March 1. He succeeds Holly Richards, who resigned last February.

Farmer has been a director, actor and producer for more than 40 years, performing in dozens of plays at Kumu Kahua, Manoa Valley Theatre, Diamond Head Theatre and the HAPA Theatre Company, as well as directed numerous shows, including his work with Solange & Associates, the group he co-founded with his wife Loren.

"I am extremely honored that the commission has selected me as the executive director," said Farmer. "Having worked under Alfred Preis during the early years of SFCA, I appreciate the rich tradition we enjoy and the exciting opportunities and challenges we face in this new century." Preis was was an architect, an advocate for the arts in the Islands and the first SFCA executive director.

Said Eunice DeMello, chairwoman of the foundation's nine-member board of commissioners, which selected Farmer: "He is a true leader who offers us extraordinarily diverse talents. He has the analytical and management skills of a practiced attorney, a deep passion for the arts, and a working knowledge of the arts community. We know he will lead the arts and strengthen the sense of community which is fueled by creativity."

Farmer will be the fifth SFCA director.

The SFCA was established by the state Legislature in 1965. Its key tasks include handing out state grants for arts projects and acquiring art for the state's collection.