Associated Press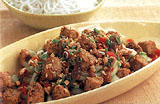 In a recipe from the "Joy of Cooking: All About Vegetarian Cooking," a traditional dish is turned to a vegetarian one when the soy-based ingredient tempeh replaces the chicken. The Szechuan-style "Hacked" Tempeh is tossed with a peanut sauce and served chilled.

In Szechuan-style "Hacked" Tempeh, a vegetarian version of a traditional dish, the soy-based ingredient tempeh replaces the usual chicken.

The dish is tossed with a peanut sauce and served chilled. The recipe is from "Joy of Cooking:

All About Vegetarian Cooking" (Scribner, $19.95).

Tempeh is a soy based "cake" available at health food stores.

Szechuan-Style 'Hacked' Tempeh
8-ounce package tempeh

4 tablespoons light or dark soy sauce

2 to 3 teaspoons minced peeled fresh ginger

1 teaspoon minced garlic

1/2 teaspoon Szechuan peppercorns, cracked

1 tablespoon vegetable oil

2 cups sliced seeded peeled cucumbers

1 cup chopped red bell peppers

1/2 cup sliced scallions

1/4 cup smooth peanut butter

2 tablespoons rice vinegar

1 tablespoon dry sherry

3 to 4 teaspoons toasted sesame oil

1 teaspoon chili paste

1/4 cup chopped salted peanuts
Combine tempeh, 2 tablespoons of the soy sauce, the fresh ginger, garlic and Szechuan peppercorns; let stand for 15 to 30 minutes.
In a wok or medium skillet over medium heat, heat vegetable oil. Add tempeh mixture and cook, stirring, until browned. Let cool, then refrigerate until chilled.
Combine cucumbers, 1/2 cup of the red bell peppers and 1/4 cup sliced scallions and arrange on a serving platter. Spoon the tempeh mixture over the vegetables.
Stir together peanut butter, 2 remaining tablespoons soy sauce, rice vinegar, sherry, sesame oil and chili paste until smooth; drizzle over the tempeh mixture.
Garnish with remaining 1/2 cup red bell peppers, 1/4 cup sliced scallions and peanuts. Toss just before serving.
If desired, serve with chilled cooked rice noodles.
Makes 4 servings.