Posted on: Wednesday, January 31, 2001
Pet adoption goes online

By Vicki Viotti
Advertiser Staff Writer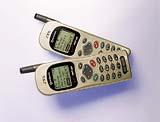 Peaches N Cream found a new home with Fran and Steve Lewandowski after the couple spotted her picture on the Web.

Hawaiian Humane Society photo

How much is that doggie in the Web-site window? The one with the waggly ears?

Once all the shots and neutering were paid for, the tab came up to about 100 bucks for a hefty serving of Peaches N Cream, the adorable Border terrier mix that now bunks with Fran and Steve Lewandowski.

The love match was forged just before Christmas, and the Hawaiian Humane Society's Web site (www.hawaiianhumane.org) served as the matchmaker. The Pearl City couple recently lost a beloved pet and, said Fran, they weren't sure they'd ever want a replacement.

Then they read The Sunday Advertiser's regular Animal Companions column, written by Humane Society personnel, and decided to log onto the site (www.hawaiianhumane.org/adoptions/index.html) and check out "Pets of the Week."

"There was Peaches!" Fran recalled with a laugh. "Just one look at that face ... and the write-up! It said, 'A carefree kind of gal who'd like her hair fixed before her next picture.'"

In addition to profiles of adoptable pets, the site is loaded with information about what's involved in adoptions, forms that can be printed out and completed before visiting the Humane Society office and listings of rentals in houses and condos that are "pet friendly."

Few homes could be pet-friendlier than the Lewandowskis', though.

"We didn't get each other anything else," Fran said. "Peaches was our Christmas present."