Posted on: Wednesday, January 31, 2001
Click: Cellular access

By Vicki Viotti
Advertiser Staff Writer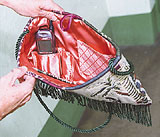 This fringed handbag (another Pepper design) comes with interior pockets that accommodate electronic devices, a feature Pepper considers standard equipment in handbags.

Gregory Yamamoto • The Honolulu Advertiser

Riiiiing . . . riiiiing . . . !
Quick, open your purse! Rummage around through 10 pounds of wallets, check and credit-card totes, day-planners, eyeglass cases and assorted other thingies that all are black, just like your cell phone.
The mission (to find the black thingie that's ringing before it falls silent) is often doomed to fail. The cell-phone user here defines failure as grabbing the phone just as the "One Missed Call" message flashes.
Both sexes find themselves doing the cell-phone shuffle, and sometimes it seems that duct-taping the thing to your ear is the only way to cope. But keeping the phone handy becomes particularly a female problem because convenient pockets and belt loops appear less frequently in women's business clothes, especially in our aloha-attire workplaces.
Some use a hands-free cell earpiece with a phone-answering switch to cut down their response time; many cell plans also allow users to adjust the number of times the phone rings. But for most women it's a storage issue. Even cell phone veterans struggle now and then to find the right, easy-to-reach place.
"Our purses are deep and full," said Sherrie Coronas, a spokeswoman for Verizon Wireless. "And my outfits don't always accommodate a belt.
"I have a clip, and I clip it on the outside of my purse," Coronas added. "And when I'm at a meeting, I clip it onto my folder."
It's become such a universal dilemma that planners of some business meetings will formally address the problem before convening.
At its recent Hilton Hawaiian Village conference, the Pacific Telecommunications Council gave out kits including a neck pouch for carrying a cell phone. Lots of them were spotted around the necks of participants milling about the hotel.
And because wireless phones have moved beyond business to become essentials in so many private lives, fashion designers are increasingly enthusiastic about this kind of accessory.
Suzanne Pepper, who relocated her design business to Hawai'i last fall, brought her line of purses that all now make space for phones inside.
Pepper also sells a small bag, wearable on the shoulder or around the neck, sized for toting a cell phone and a few small items. She's planning a show next month in Kane'ohe (call: 554-3972) but will have to beef up her supply of these, since they've all sold out.
"Myself and my friends, we have the same problem of not being able to get to your cell phone in time," Pepper said. "I'm a bike rider, and sometimes I want to go out with nothing but a billfold, a credit card, a lipstick and a cell phone."
The handbag industry has just started answering the call. Kyle Tajima is the Hawai'i representative for Tumi, manufacturer of varied totes and packs. The category of luggage accommodating wireless devices has expanded in the last year or more and is still growing, Tajima said.
For example, Tumi's T2 line of day packs is aimed largely at younger customers, who are used to carry-alls loaded with zippered pouches, not sleek attaches.
"They're the generation that grew up with a backpack," she said.
James Cramer Jr., 30, is an associate manager for El Portal, the company that recently took over The Pocketbook Man shop at Ala Moana (soon to be renamed El Portal). He's finally relinquished his backpack for a more businesslike attache, but even these must adapt to the children of technology and all their electronic gear.
"When I picked it out," he said, "that was my main question: 'How many compartments are there? Because I need five.' "