By Michele Kayal
Advertiser Staff Writer

All year long, folks had had an inkling. But when the numbers finally came in, even the optimists were surprised: 2000 smashed all records for Hawai'i tourism, bringing more visitors than ever before and delivering record revenues to the state's hotels.

Trickle-down tourism: Six months on the front lines

Last summer, The Advertiser profiled 15 people who work in Hawai'i's visitor industry. At that time, each one had dreams and goals they were trying to reach: the Philips on the Big Island were trying to sell enough flowers to the cruise ships to build and stock their orchid house; on O'ahu, 'Ohana Waikiki West manager Pam Yagi was planning for a new baby; Kayak Kaua'i guide Marni Morgan was trying to save for a trip to Alaska. Here is a short chronicle of what's been going on in their lives — and in the way they spread their manoy through the econom — as the visitor industry progressed month-by-month toward a record year in 2000.
Read about Momi & Darcy Bean, Steve & Susan Philips, Juvenal & Dyan Hidalgo and Kim & Phoenix Dupree.
Read about Tuddie & Kammie Purdy, Marnie Morgan, Pam Yagi, Florencia Daga, Bert Momotomi and Billy Remular.
Read about Patti Nakagawa, Emiko Miyasato, Angela Vento, Wayne Hirabayashi and Garfield Namahoe.
The numbers showed that tourism policy-makers had more than met their goals. Nearly 7 million visitors arrived during 2000, and hotel occupancy statewide hit 78 percent, a decade high. An ambitious plan to raise visitor spending by about 5 percent, to $10.4 billion, as part of a strategic marketing plan by the relatively new Hawai'i Tourism Authority is actually expected to come in at $11.2 billion, a 9-percent increase.

Whether or not that success filtered down to the people who work in, live through, and make Hawai'i's visitor industry possible is more difficult to measure.

Economists say it's tough to tell whether policies actually work, and even harder to draw a direct correlation between government plans and the effects on real people. But 15 folks who shared their goals and dreams with readers of The Advertiser last summer report that, for the most part, they felt a lightening of their burden in 2000.

Nobody bought a new home or went on a dream vacation, but most say the success of their businesses or employers did affect them in some way, that it took the edge off tough times in the past. At least one person was able to afford a new car.

At Gifts With Aloha, on Lana'i, sales went through the roof, outstripping the Dupree family's expectations. Better cash flow took some of the tension out of buying new school clothes and outfitting one of the kids with braces, Phoenix Dupree said, while letting them plow most of the money back into the business.

The Purdys on Moloka'i kept busy welcoming visitors to their macadamia nut farm, and enough money came in to let Kammie Purdy join her sons in opening a restaurant.

Marnie Morgan, a single mom who works as a guide at Kayak Kauai, racked up tons of overtime as visitors kept coming, but a personal setback kept her from getting an Alaska trip she'd been saving for.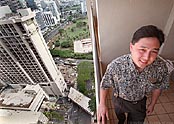 Bert Momotomi, director of guest services at Hilton Hawaiian Village, gets a view of the Kalia Tower in the background. Tourism spending broke records in 2000, with statewide hotel occupancy at a decade high.

Jeff Widener • The Honolulu Advertiser

Billy Remular made his first trip to Las Vegas — and actually won.

At least one person did not share in the better times. Kona fishing boat captain Momi Bean cut short his struggles on the Big Island, taking his family to California for what he hoped would be a better job with a generous boat owner.

And 2001 could hold harder times for others, too. Visitor arrivals for January were up more than 7 percent over last year, but tourism executives say they see a rocky year ahead.

Hotels are struggling through the first quarter, many executives say, a lag that's difficult to make up. And the books are light when it comes to major conventions and large, free-spending groups — a dynamic that contributed heavily to last year's success.

Just how different 2001 will be — and how much the people working through it will feel the changes — will unfold as the year progresses.