Associated Press

NEW YORK — If the 1970s-inspired floral prints on the runways last fall and in the stores this month already look passe to you, you're probably not alone.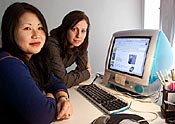 Sharon Lee, left, and Dee Dee Gordon run Look-Look.com, an online research company that surveys young people worldwide on trends.

Associated Press

In recent years the women's fashion trend cycle — fueled by the Internet, proliferation of knockoffs and consumers' itchiness for something new 24-7 — has accelerated to such a frenzied pace that trends are dying sometimes before they reach the store racks.

This spring season reflects the height of fashion chaos, with an array of trends arriving at retailers — from preppy chic and Grecian looks to retro 1920s and 1980s styles.

And the shortening shelf-life has designers desperately seeking to capture consumer attention by shipping cashmere sweaters in July and boots in the summer.

"Fashion democracy has exploded, and consumers want a great item whenever they can get it," said Wendy Leibmann, president of WSL Strategic Retail, a New York retail consulting firm. "They expect it from Donna Karan and Target at the same time."

Swedish retailer Hennes & Mauritz, which invaded the United States last year, is packing in customers for "disposable chic." H&M often offers designer knockoffs before the originals are shipped to stores. Shoppers are seen stripping down in the aisles to try on items, and there are still long waits for the dressing rooms and the checkout lines.

Other foreign imports such as Spanish-based Zara, and Canadian chain Club Monaco, also cater to a trendy customer with affordable designer-inspired clothing. The frenzied environment forced Limited Inc. to transform its once sleepy Express stores into a powerhouse trend machine, developing a design team that now numbers 50 people.

The new climate has made it imperative for department stores to clarify their own fashion strategy to stay competitive.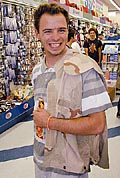 In a photo from the Web site, a 19-year-old Los Angeles man shows off a camouflage vest he bought at a 99-cent store with $20 provided by Look-Look.com.

Associated Press

Two seasons ago, Macy's decided not to merchandise specific runway styles, opting instead to focus on "generic" trends that could be marketed throughout its fashion and home furnishings areas, said fashion director Carolyn Moss. This spring, Macy's is playing up flowers and bright colors.

"There is such a mishmash of fashion," Moss said. "You have to really make it more understandable for the consumer."

By contrast, Bloomingdale's last year began identifying key runway trends more aggressively in its catalog and stores. The spring campaign pinpoints such must-haves as denim skirts and sexy sandals.

"They're not trends anymore — it's like the passing of information," said Dee Dee Gordon, co-president of Look-Look LLC, a Los Angeles-based consulting firm that showcases various trends on the Internet for her corporate clients. Gordon gets feedback around the world from a network of 10,000 kids ages 14 to 30.

Gordon and others cite the Internet as the main driver fueling fashion's new speed. Consumers — and knock-off companies — can see runway looks within hours after the shows.

Trends now have an average lifespan of eight to 12 weeks, instead of five months, like two years ago, said Philip Kowalcyzk, director of retail services at Kurt Salmon Associates.

Figuring out which trends will be long-standing is becoming more challenging for trendy retailers, too.

Paul Raffin, executive vice president of merchandising at Express, said he and his design staff are constantly on the road in search of hot ideas. The retailer's spring lineup includes micro-mini skirts and Grecian-inspired knotted halters.

Wendy Red, a buyer at Up Against the Wall, a Washington, D.C.-based chain with 21 stores, offers a mix of big brands such as DKNY and Polo Ralph Lauren along with smaller ones not found in department stores. Red has focused this spring on low-rise jeans, one-piece stretch denim suits, and T-shirts in glitter and rhinestone.

"The trends are happening almost too quickly. You don't have enough time to create volume," she said. "By the time it gets onto the floor, kids are already tired."