Associated Press

NEW YORK — Ericsson's doing it. Nokia's doing it. Even Microsoft is doing it.

But for most people who like to use handheld computers, the race to create the perfect combination of organizer and a wireless phone has been a half-hearted dalliance without the mighty Palm weighing into the fray.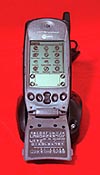 The Kyocera Smartphone feature a mobile Internet browser that downloads full-text Web pages in the HTML language.

Associated Press

This week, though, the race should gain new urgency when Verizon Wireless trots out the Kyocera Smartphone, an enticing new cellphone that doubles as a personal digital assistant powered by the hugely popular Palm operating system.

The device is also among the first phones to feature a mobile Internet browser that downloads full-text versions of Web pages in the HTML language used on computers.

Most of today's mobile phones use the WAP format, which extracts watered-down snippets of Web content customized for a tiny screen.

The drive to meld phones and PDAs first picked up speed last year with new devices from Ericsson and LG InfoComm, neither of them Palm-powered.

But this may shape up as the Year of the Smartphone with the arrival of the Kyocera model, which Sprint PCS also plans to sell, and another Palm-powered handset due from Samsung this summer.

While many rivals are sure to follow, the Smartphone seems like the most convincing attempt yet to persuade multi-device users, especially Palm fans, that it may be time to ditch their various portables and upgrade.

The new device, priced reasonably at $499 with a one-year Verizon service contract, sacrifices little in cramming the functions of a full-blown Palm device into a slender-enough, light-enough package that can also pass as a mobile phone in these days of ever-shrinking handsets.

The most obvious shortcomings are a thicker, longer body with a slightly shrunken screen — less than 25 percent smaller than the screens on Palm III and Palm V organizers, and a bit thicker.

Likewise, at 7.3 ounces, the Kyocera phone would weigh nearly twice as much as Palm V or the long-promised "Stinger" that Microsoft may finally bring out later this year.

But since the Microsoft phone is only a promise for now and the Palm V has no phone, the added heft of the Smartphone seems like a perfectly fair tradeoff in exchange for not having to carry both a handset and a PDA.

And while it wasn't quite small or light enough to sit comfortably in a shirt pocket, the Smartphone passed the "pants pocket test" that is vital to carrying around a handset or pager on jacket-less summer days.

The SmartPhone's keypad swings open to reveal a slightly miniaturized Palm device with all the familiar buttons, on-screen icons, infrared port, and the rectangular field for handwriting or typing with a stylus. It has all the standards programs for contacts, e-mail, schedules, memos, and synchronization with a personal computer.

Users also can equip the device with hundreds of specialized Palm applications available for download on the Web.

In terms of size and price, the Smartphone certainly compares favorably with the sparse field of two direct rivals currently available in the United States: the $399 touchpoint 3000, made by LG and distributed by Sprint PCS; and the $599 Ericsson R380 World Communicator, which relies on a technology popular in Europe but supported only by VoiceStream and a few other carriers in this country.

The Ericsson and LG models both weigh about 6 ounces.

The Smartphone's only other would-be rival that's currently available is the Handspring Visor, a Palm-powered device that can be equipped with a plug-in cellphone module.