By Will Hoover
Advertiser Staff Writer
Last week, outside Loo's Market at 1402 Lusitana St., a frustrated motorist pleaded with a construction worker for directions to Davenport Place.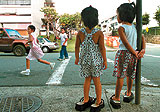 Adisa Roberts, 2, and Popo Roberts, 4, stand on the corner of Lusitana Street watching some other children.

Cory Lum • The Honolulu Advertiser

"I know the street's right around here somewhere, but I can't find it," said the driver, who had the look of a trapped animal in his eye.

"You're not far from it," explained the worker. "But you can't get there from here."

This is hardly a rare occurrence in one of Honolulu's more intriguing neighborhoods, a three-block patchwork of older houses and small apartments sandwiched between the H-1 Freeway and the Vineyard Boulevard off-ramp.

As anyone who happens in here for the first time can tell you, it's a neighborhood that doesn't seem to go anyplace. Essentially, there's one road, Lusitana, which veers off and becomes Captain Cook Street, which continues for a block and dissolves abruptly. Three short side streets mauka of Lusitana — Pele, Miller and Frear — also come to a dead end.

People aren't quite sure what the neighborhood is called.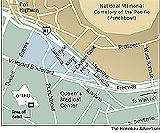 This is a map of the Lusitana Street neighborhood.

Before the freeway gouged its way through, the neighborhood was considered part of the greater Punchbowl community. Back in 1969, when it was the last point in Honolulu between the east and west stretches of the H-1 Freeway, the area was known as "The Missing Link."

Finally, the freeway cut off access mauka/north to Punchbowl Crater and the mountains. The Vineyard Boulevard off-ramp severed Lusitana and Captain Cook, blocking access makai/south (although there is a tiny, limo-length piece of road that circles off Lusitana onto the Vineyard off-ramp).

What has remained is an eternal triangle of a neighborhood that's caught between freeway and off-ramp, Punchbowl and Alapa'i, frozen by an incomprehensible snarl of concrete roadways.

Still, Elsie Braun, whose aging house sits at the top of the hill, where Miller ends, says she can't imagine living anywhere else.

That could be because she never has lived anywhere else.

"I've been here 83 years," said Braun, who's 83. "I think I was born in this house. I forgot to ask my mom, but back in those days you had midwives. So, I was probably born here."

Braun's front porch may have seen better days, but not many porches have a better, more spectacular view of the downtown Ho-nolulu skyline.

It comes at a price.

"When I was a little girl, it was all flat, and you could see the ocean and the Lurline and other ships that came in on Boat Days. . . . Now my 1-year old grandson likes to watch the emergency helicopters take off from Queen's Medical Center."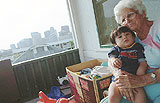 The Honolulu skyline is a backdrop for Elsie Braun and 1-year-old Tyson Shimabukuro. Braun has lived in that area for 83 years.

Cory Lum • The Honolulu Advertiser

About 10 feet from Braun's house is the only direct way out of the neighborhood toward the mountains, a pedestrian overpass that leads from Miller crosses above six lanes of freeway and ends up at Magellan Avenue on the Punchbowl hillside.

Braun says she has grown accustomed to the sounds of hundreds of thousands of vehicles streaking past her home 24 hours a day, week in and week out. But she hasn't forgotten the days when she lived in a quaint and quiet Portuguese community.

"All our neighbors were Portuguese. All our friends were Portuguese. I'm Portuguese. Now, we've got all nationalities living here."

Ernesto Julian, who has lived for the past 14 years in an apartment on Captain Cook, runs through the litany of races residing in the triangle.

"We've got Filipinos, Chinese, Japanese and blacks," he said. "We've got Tongans, Micronesians, Koreans, haoles and Portuguese. We've got young, old and in between."

The breezy neighborhood, shaded by everything from mango to tangerine trees, is a genuine melting pot, Julian said.

"There are places in the neighborhood where there's drinking and drugs, but this block is the safest block in Honolulu," said Solomon K-Aloha, who lives on Pele between Lusitana and Vineyard. "That's because everyone on this street watches out for everybody else. People come in with a good attitude and a smile, and that's how they leave."

Even as K-Aloha spoke, a group of children were happily playing marbles on Lusitana near Punchbowl. Nearby, another group of youngsters was sorting through a fascinating treasure trove of books, folders and pictures exhumed from a bag of trash.

"I like it here, but I told my aunty that I'd rather live in Pohnpei," said Shandra Neth, 12, one of numerous Micronesian children who live in the neighborhood. "Pohnpei is more fun. You can swim, you can go fishing and you can get your own mangoes."

Over at Loo's Market, on the corner of Miller and Lusitana, proprietors Kirby and Laura Loo have seen it all in their 55 years of marriage. Kirby's dad, the late Yan San Loo, started what was originally Loo's Drug in the early 1920s. Kirby was born in the family house, right across the street, before it was torn down and replaced by an apartment building.

Loo's is about as authentic as a mom and pop shop can get, serving not only as a convenience store, but a gathering place where folks can catch up on the latest gossip. Other than the Jiffy Lube at Lusitana and Punchbowl, the market is one of only two visible businesses in the neighborhood.

"There are only about three of us left who go back to the old days," said Kirby Loo, 77, even as Elsie Braun stepped through the door to say hello.

"This whole place has changed a lot. You know, I think Star Market opened their first store here on Lusitana. This is going way back — probably the 1940s."

Loo says at one time the neighborhood had butchers, bakers and barbers. There were plumbers, carpenters and even a car dealer.

"We had it all."

Everything changed with the coming of the roads. Those who remember how it was before the borders of the community were set in stone agree.

But, Loo said, "This is still a nice little neighborhood."