Advertiser Staff
There were so many great entries in the Honolulu Advertiser's "'Ohana in the Islands" photo contest - more than 100 people sent in photos of their sweetest and most emotional moments in 2000 - that the judges chose eight entries for honorable mention honors. They are shown here.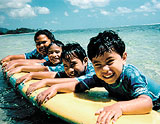 Aaron Keko'olani, Wai'alae
Keko'olani took this photo of his children last August at Punalu'u Beach: from left, Anela, 10; Nainoa, 7; Kaipono, 5; and Keli'i, 4.
"To all of our friends and relatives in the Mainland, this picture brought wonderful memories of loved ones back home, and the fun and beauty that our Islands have to offer, and how close we are to the 'aina and moana," wrote Keko'olani.
Judge's comment: "I liked the way it was composed," said Advertiser art director Stephen Downes. "It's very charming - just look at the kids in there and their outfits."

Georgette Hohl, Wahiawa
Hohl took this photo of her grandson, Bret Matthew Frederick, 3, last December at Sunset Beach.
"This photo is special because it invokes a feeling of peace and serenity," Hohl wrote in her entry. "That is my (grandson) . . . searching Sunset Beach for seashells to decorate our sandcastle we created together. He seemed in his own little world, so I grabbed my camera to capture this wonderful childhood memory."
Judge's comment: "It's the composition of the picture," said Advertiser director of photography Seth Jones. "It's the fact that it's impromptu . . . it's not posed, and the kid looks like he's headed out to do something." Jones added that another winning feature of the picture is its beautiful background.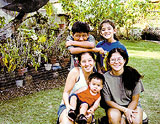 Carol Mae Kurisu, Wailuku
Kurisu took this photo Dec. 22 in her backyard: from top left, Kurisu's grandson, Stephan Cardenas, 11; granddaughter, Skye Cardenas, 9; daughter, Carrie Cardenas; grandson, Bryce Fujishima, 18 months; and daughter, Candace Fujishima.
"It's a rare occasion when both my children and grandchildren visit me at the same time. I decided to take this picture on a whim, but after developing it, I realized how much I am loved, and how much I love them," Kurisu wrote in her entry. "My granddaughter said it best when she told her mother that coming to Maui makes her feel like this is really 'family.'"
Judge's comment: "We liked the ethnic diversity reflected in their faces, and the cozy, intimate feelings that clearly bind this family together," said Advertiser assistant features editor Esme Infante Nii. "We also liked the setting - that orchid-filled, shady, lush kind of backyard that we like so much in Hawai'i."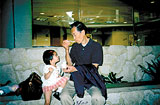 Winnie Yang Gao, Honolulu
Gao took this photo in March of last year in Ala Moana Center: from left, daughter, Annette Gao, 2, and uncle Raymond Ching.
"With simple and unaffected confidence shining in her eyes and in the relaxed posture of her body, little Annie silently expresses the closeness she feels for her grand-uncle in an uncomplicated moment of sharing an enjoyable pastime of eating ice cream," wrote Vicki Lai of Hawai'i Kai, Gao's cousin, who submitted the entry.
Judge's comment: "It's a very sweet photograph, and it bridges the gap between generations," said Advertiser managing editor David Montesino. "The sharing aspect of the photograph really caught my eye."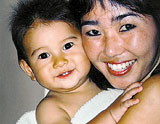 Daniel Kaslow, Waikiki
Kaslow captured his wife, Vanessa, and their 15-month-old son, Kobe, in an intimate moment at home.
"This is my favorite photo of my favorite people," Kaslow wrote. "This picture shows 'ohana through its beauty created by God, and two different races combined into one."
Married for four years, Kaslow has taken tons of photos of his wife and their first child. But this one "was a real sparkler," he said. "It was a shining, real-life, happy picture. I was just lucky enough to catch it on film."
Judge's comment: "This just looks like family life. I'm guessing she just got him out of his bath and it was just a snap of a moment in time," said features editor Wanda Adams. "And their faces are so beautiful, and his little hand on her arm just seems to express such confidence in her."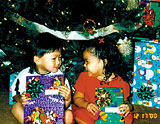 Garry Luke, Ha'iku, Maui
Luke caught his 4-year-old son Justin making faces at his 3-year-old cousin, Raven Day, on Dec. 17 in front of a well-stocked Christmas tree.
"We just told them to smile, and that's what they did," said his wife, Lori, who submitted the photo.
Born in the same year, the two cousins are very close. "Love, happiness and a warm feeling of togetherness oozes out from this photograph," Lori wrote to us. "The mixture of races of the two keikis depict the unique culture of Hawai'i nei."
Judge's comment: "The photo says it all," said Advertiser managing editor David Montesino, "the mood, the joy on the face of the girl. The love and joy between the two was something I thought was notable."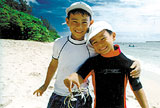 K. Tsubata, Makiki
Eland and Easton Tsubata were hunting for crabs one afternoon last July. Their father captured his two sons, age 7 and 5, sharing a monumental moment on the North Shore.
"Older brother Eland finally convinced Easton to build up his courage to catch this big (crab)," Tsubata wrote. "Together, they celebrated the event."
Judge's comment: "This picture says 'brotherhood,' and it also says 'Hawai'i,'" said features editor Wanda Adams. "And you can just tell by the way he's holding that crab and the kind of grimace he has on his face that he's not too sure about this. This is a case of capturing a real-life kind of moment."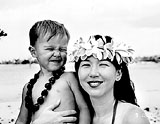 Casey Forbes, Hickam Air Force Base
As a favor for her neighbor, Forbes snapped this photo of Terressa Matthews and her face-making 3-year-old son, Ricky, at Fort Kamehameha Beach on Sept. 16.
Matthews had returned home to Hawai'i after living on the Mainland for 10 years. She feels fortunate to be able to raise her son in Hawai'i, even if for just the three years she's stationed at Hickam Air Force Base. She wanted to commemorate her time here by having pictures taken of her wearing a lei of plumeria, her favorite flower, and Ricky wearing a kukui nut lei.
"When I got the pictures back, I realized that in every picture he was making a face," wrote Matthews, who submitted the photo. "After my initial dismay, I quickly realized that this was better than the 'perfect picture' smiles I had in mind, for this captured my son's 'rascal' personality and would always remind me of our time spent living in the Islands."
Judge's comment: "The quality of the print is very nice and the expression is mischievous," said Advertiser art director Stephen Downes. "It shows two people completely relaxed with each other and enjoying each other's company."