By Zenaida Serrano Espanol
Advertiser Staff Writer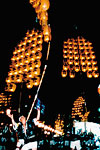 One attraction will be the Akita Kantou Matsuri, or Akita Lantern Pole Festival.

This is a must-see event for cultural enthusiasts, young and old: The seventh annual Honolulu Festival, which celebrates the arts and culture of Japan, is free to the public and runs Friday through next Sunday.

The festival promotes cultural exchange between the people of Hawai'i and Japan. Attractions include a float shaped like the old fishing boats of Japan, with more than 80 members carrying the boat, and performers balancing dozens of rice lanterns on a bamboo pole on their foreheads and shoulders. The festival schedule:
6-7 p.m. Friday, Honolulu Hale: opening ceremony.
10 a.m.-6 p.m. Saturday and 10 a.m.-3 p.m. next Sunday, Royal Hawaiian Shopping Center and Ala Moana Center: cultural entertain-ment; Hawai'i Convention Center: displays of the floats, entertainment, local and Japanese handcrafters and more.
5-9 p.m. next Sunday, along Kalakaua Avenue, ending at Kapi'olani Park: parade featuring the floats, performers and a fireworks display. For information, call 564-5355 or visit www.honolulu-festival.org