Isle volunteers join those trying to keep area safe
Many tourists choose a hotel for its safety
O'ahu crime statistics graphic
By Dan Nakaso
Advertiser Staff Writer
Waikiki, focus of a concentrated effort that has made it the most heavily guarded and patrolled area in all of Hawai'i, is about to add another level of security.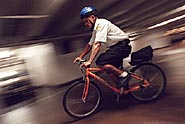 As Iakopo Viliamu, a security guard for Wackenhut, makes a round of the Outrigger hotel parking area, he joins scores of police, privately hired guards and groups of volunteers who strive to keep Waikiki safe.

Cory Lum • The Honolulu Advertiser

The Waikiki Business Improvement District is expected to announce an agreement next week that would send additional private security patrols into the half-square-mile heart of Waikiki. The unarmed agents would be contracted from a professional security firm for about $600,000 a year.

The extra patrols are a direct response to the frustrations of Waikiki businesses weary of sidewalk vendors, leafleteers and street performers who intrude on private property. While police can issue citations only if they witness a violation, the new private security guards would have the unusual authority to provide eyewitness accounts of infractions that police officers can use later to cite offenders.

The new guards come on top of other changes to security in Waikiki over the last year:
In May, Outrigger Hotels and Resorts joined a growing list of Waikiki's major hotels that have turned to private security guards to beef up the uniformed presence at their properties and help assure visitors.
In April, a Waikiki Citizen's Patrol formed to look out for residents' concerns by reporting suspicious activities to police and documenting broken sidewalks, burned out lights and garbage to city officials.
The Waikiki Citizen's Patrol follows two other volunteer groups, both formed in 1996: The Aloha Visitors Patrol focuses on the main tourist areas around Kalakaua Avenue, and the Tourist Crime Prevention organization — called TCP-110, after the Japanese version of 911 — was formed to help Japanese tourists.
The extra patrols have come with aesthetic improvements that many believe are reshaping the image of what has been Hawai'i's premier destination for tourists.
Under surveillance
To the Honolulu Police Department, Waikiki is known as District 6 — the smallest in size, but one packed with an ever-changing mix of people. The district stretches from the Hawai'i Convention Center to the slopes of Diamond Head; from the Ala Wai Canal to Waikiki Beach.
It's home to 28,000 residents. Another 30,000 workers and 87,000 tourists pour in each day. At the same time, only an estimated 1,500 Hawai'i residents who live outside the area come to Waikiki daily.
The district already includes a police substation, military police and Department of Defense patrols, improved surveillance and private guards in Waikiki hotels.
Still, those who worry about Waikiki say the efforts can do little to preserve the area's reputation when a high-profile crime occurs.
In January, an 81-year-old Canadian tourist was killed during a robbery at a Waikiki hotel, leading to widespread international media coverage.
"If it happened to a local person, it would make the news in Honolulu," said Sam Bren, chairman of the Waikiki Neighborhood Board. "It would never be picked up by the Associated Press and circulated around the world like that murder. It left a totally bad image of the Hawaiian Islands."
In the mid-1990s, Waikiki's problems were tougher. Visitors went home with complaints of being badgered by prostitutes and sidewalk T-shirt vendors. Violent crimes against tourists, such as the 1996 purse-snatching of a Japanese woman who was dragged behind a truck driven by her attackers, were relayed back to the Mainland and Japan.
Then the city renewed its efforts to improve the district. New laws were written to nudge T-shirt vendors off the sidewalks. Suspected prostitutes now have to stay out of Waikiki until trial because they sometimes had been rearrested two or three times before their first case ever went to court.
Today, Waikiki ranks sixth out of the eight Honolulu police districts in overall numbers for violent crime. When less serious crimes are factored in, Waikiki is the lowest in overall numbers.
"We had been having a honeymoon of sorts when it came to violent crime," said Warren Ferreira, a former Honolulu deputy police chief. Ferreira is now corporate director of security for Outrigger and president of CrimeStopers and the Hawai'i Visitor Industry Security Association.
Shock waves after attack
Then in the early hours of Jan. 23, a visitor named Norman Chaplan was checking into the 'Ohana Waikiki West hotel with a senior citizens tour group when he stepped into the lobby bathroom.
Chaplan, a retired salesman from Toronto, was robbed and beaten over the head with a rock and died two days later.
Such a murder struck at the tourism industry's worst fears.
Honolulu police, aided by images from the hotel's surveillance camera, arrested a suspect in Chaplan's murder. Steven Michael Hauge, 43, has been charged with an unrelated assault.
As the news of Chaplan's murder spread throughout Canada, three to four phone calls and e-mails a day from worried Canadians came to Barry Wallace, senior vice president of operations for Outrigger Hotels and Resorts, which operates the 'Ohana Waikiki West.
All of the callers and writers had plans to stay with Outrigger, and some were bringing high school groups. They wanted assurances they would be safe, Wallace said.
Outrigger has updated some locks and surveillance cameras, while a private security company has replaced the company's internal operations. Hiring an outside firm increased the number of security staff hours by 69 percent, Wallace said.
None of the people who called or wrote canceled their plans, Wallace said.
"That kind of presence is really reassuring to our guests," he said.
Not to Blair Graham, a 40-year-old visitor from Toronto who publishes tourism guides.
In October, Graham was sleeping in his Waikiki hotel room when he heard his fiancee screaming. He awoke at 4 a.m. to see the outline of a man leaning over her, rubbing her arm.
The man apparently had taken their luggage, camera, credit cards and $600 in cash. "Then he came back to the room for something extra," Graham said.
Graham and the other man wrestled before the robber escaped. In the few hours it took Graham to cancel his credit cards, the thief rang up $1,500 in charges.
Never coming back
When they returned to Canada, Graham and his fiancee, 30-year-old Lina Ierullo, could not sleep for months. "She's still struggling with this," Graham said by telephone from Toronto.
After three Waikiki vacations, Graham has seen the last of Hawai'i. "I have no intention of coming back there. Ever," he said. "I'm still very angry."
Waikiki may be one of the safest areas in one of the safest cities in America. But low crime statistics offer Graham no comfort.
And the increased patrols mean nothing, he said. Not if you're one of the victims.
Advertiser Staff Writer Michele Kayal contributed to this report.