Stephen Tsai

Advertiser Staff Writer
In a men's volleyball match that only counted as a test of pride and character last night, Hawai'i showed true grit in dismissing fifth-ranked Stanford, 30-26, 30-25, 34-32.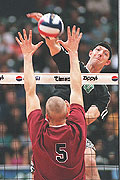 Hawai'i's Brenton Davis launched a spike over Stanford's Billy Clayton in last night's second game. The Warriors swept the Cardinal, 3-0, for the second night in a row.

Cory Lum • The Honolulu Advertiser

A Stan Sheriff Center crowd of 4,747 watched the sixth-ranked Warriors improve to 11-3 by sweeping their Mountain Pacific Sports Federation rival for the second night in a row. The Warriors rallied from a 29-24 deficit in the third game to complete their ninth three-game sweep this season.

The Cardinal fell to 8-4.

Outside hitter Costas Theocharidis had 16 kills for UH in a match that did not count in the MPSF standings.

But it was the men in the middle — Dejan Miladinovic and Brenton Davis — who owned the night.

The usually stone-faced Miladinovic took charge during the introductions, racing onto the court wearing a bushy wig and black headband — a tribute to Davis, who shaved his trademark sideburns before Friday night's match and sported a freshly cropped hairdo last night.

"When he came out," Davis said, "I just lost it. It was hilarious."

Miladinovic said he found the wig in the women's training room, and "I had an idea a long time ago to wear it. I finally did it. It was a nonconference match. There wasn't much pressure. I figured I would have some fun."

Davis said he cut his hair as a symbolic way to "clean the slate." But he promised no other super cuts. "I think I'll keep the eyebrows," he said, smiling.

After that, the mane men became the main ingredient. Miladinovic, reading the Cardinal sets as if they were pop-up books, had one solo block and assisted on 13 of the Warriors' 21 blocks.

Davis had nine kills, hitting .538, and four block assists.

"It's hard to touch them right now," UH coach Mike Wilton said. "They're blocking some shots. They're playing really well."

The Cardinal rotated setters Brad Griffith and Josh Lukens only to end up in the same spot — staring at the wide and high block constructed by the UH middle. Outside hitter Curt Toppel had 17 kills, but made 13 hitting errors. In all, the Cardinal botched 31 of its 81 shots and finished with a .151 hitting percentage. The Warriors hit .343.

In the third game, the Warriors showed it had abs of steel, refusing to stomach defeat after falling behind, 29-24. Putting his trust in the UH block, Theocharidis repeatedly placed safe serves as the Warriors scored six in a row to go in front, 30-29. Opposite hitter Torry Tukuafu, who did not start because of erratic play Friday night, scored four points during the surge.

"I'm just doing my job," Tukuafu said.

Eyal Zimet's laser and Theocharidis' blast that ricocheted off a Stanford dig and into the booster seats closed the match.

"Wow, it was a nice comeback," Wilton said of the third game. "It certainly was heart and character and a little luck."

Said Davis: "It made believers out of all of us that we can come back from a deficit. This was a good character test."