By Dayton Morinaga
Advertiser Staff Writer
EL PASO, Texas — The University of Hawai'i men's basketball team seemingly prepared for everything on this road trip except for the Wolfram in sheep's clothing who ambushed it yesterday.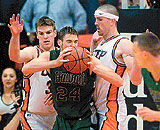 Hawai'i center Troy Ostler tries to find elbow room against Texas-El Paso's Brandon Wolfram, left, and Brian Stewart.

Associated Press


Led by Brandon Wolfram's 35 points, Texas-El Paso defeated the Rainbows, 85-77, before a sellout crowd of 12,222 yesterday at the Don Haskins Center.

With the victory, UTEP clinched the No. 3 seed for next week's Western Athletic Conference Tournament at Tulsa, Okla. The Miners, the only WAC team to sweep Hawai'i this season, completed the regular season 21-7 overall and 10-6 in the conference.

Hawai'i saw its four-game winning streak snapped and fell to 14-13 and 8-8. The Rainbows are the No. 5 seed for the WAC Tournament, and will play No. 4 Texas Christian in a first-round game at 10:30 a.m. (HST) on Thursday.

"Too much Wolfram," Hawai'i coach Riley Wallace sighed. "That was really the whole story." The 6-foot-9 senior, who appears almost meek off the court, received a standing ovation and chants of "Bran-don! Brand-don!" from the crowd after the game.

"It was a great way to go out," said Wolfram, who is UTEP's career scoring leader with 1,762 points, and also an academic All-American.

Wolfram was virtually unstoppable in the low post. He made 11 of 15 shots and13 of 16 free throws, and grabbed eight rebounds.

After the Rainbows cut an eight-point second-half deficit to 75-74 with just under two minutes remaining, Wolfram outscored Hawai'i, 10-3, the rest of the way.

"If he's not the WAC Player of the Year, it's a flat injustice," UTEP coach Jason Rabedeaux said.

"I was trying to play good defense on him and he still made his shots," said forward Phil Martin, one of four Rainbows who rotated guarding Wolfram. "We were in his face on a lot of his shots, but he just had it going."

Still, the Rainbows nearly ruined the Miners' Senior Night. Hawai'i had its motion offense clicking in the first half, when it led by as many as eight. Although Wolfram had 19 points at halftime, the Rainbows led, 36-34.

The Miners took control in the second half when Wolfram found a low-post partner in 6-10 Brian Stewart.

"At halftime, we talked about pounding (Hawai'i) inside," Stewart said. "We knew if we kept going inside, we'd either score or get fouled."

As proof, Stewart scored 19 of his career-high 23 points in the second half. He also grabbed a game-high 10 rebounds, leading UTEP to a 31-29 advantage on the boards. He and Wolfram combined to shoot 19-of-26 from the field, and 20-of-24 from the free throw line.

In contrast, Hawai'i was 9-of-10 from the free-throw line.

"It was real physical for one side," Rainbow forward Mindaugas Burneika said. "(Stewart) got away with some stuff, but that was no excuse. We still had our chances."

The Rainbows countered the Miners' low-post dominance with mid- to long-range shooting. Predrag Savovic led the way with 18 points, including 15 in the second half. Nerijus Puida added 15 points, seven rebounds and seven assists, and Burneika came off the bench to score 14.

"I thought we played good for most of the game," Puida said. "There was just that stretch in the second half when we let them get ahead of us."

The Miners opened the second half with a 16-6 run to take a 50-42 lead they would not relinquish in the game's final 13 minutes. It would be the first time in 14 games this season that Hawai'i did not win when it led at halftime.

The Miners will play Southern Methodist in the first round of the WAC Tournament, a match-up that brought a sense of relief to Rabedeaux. There was a possibility of Hawai'i and UTEP playing again in the first round.

"I'm really, really glad we're not playing Hawai'i in back-to-back games," he said. "They're so dangerous right now."

Wallace added: "We're disappointed with the loss. But our guys walked out of that locker room feeling like they can play with anybody on the road. A week ago, everybody had doubts about that."