Dennis Anderson

Advertiser Staff Writer
"Sick and tired of finishing second," St. Louis School ended a 27-year drought last night by winning the Data House State Boys Wrestling Championship before a wildly enthusiastic crowd of 2,635 at Blaisdell Arena.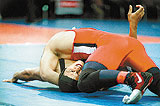 St. Louis' Chris Sokugawa pins Nanakuli's Amron Kekahuna in their 189-pound semifinal match. Sokugawa lost in the finals to Kamehameha's Carden Vincent, 3-2.

Eugene Tanner • The Honolulu Advertiser


"We've finished second two of the last three years," said Travis Lee, one of five Crusaders to win individual weight class titles. "We were sick and tired of finishing second."

St. Louis clinched the team title in the third of 14 final matches when Troy Takahashi won the 119-pound bout, but the Crusaders didn't pause a second to celebrate. Lee (130 pounds), C.J. Peabody (140), Jonathan Spiker (145) and Prince Brown (215) also won their weight classes. Freshman 103-pounder Ben Wilmore and junior Chris Sokugawa (189) finished second.

Lee and Maui High heavyweight Saia Lotulelei each won his third state championship, joining 12 others who have three-peated in the 36-year history of the boys tournament.

Spiker kept on pace to become only the second wrestler in Hawai'i history to win four state high school titles. A sophomore with a 4.17 grade point average, Spiker kept his wrestling GPA perfect, too, running his career record to 76-0. He pinned Maui's Ludwig Madariaga in 1 minute, 22 seconds.

St. Louis scored 207.5 points to 167.5 for runner-up Punahou. Kahuku was third with 145.5, followed by Kamehameha with 141 and Maui with 100. Defending champion 'Iolani had 92.

Lee, who finished the season 35-0, has not lost in Hawai'i in three years. He ended his high-school career with a 23-7 victory over Castle's Brian Tsutsumi Jr. in which Lee scored nine takedowns and two near-falls.

"I really wanted the pin," said Lee, who had pinned his three previous state meet opponents and 24 this season. He was on the verge of a pin near the end of the third round when officials broke his Franklin hold on Tsutsumi because the Castle senior was bleeding.

Takahashi's 3-2 victory over Maui's Jonathan Smith at 119, which clinched the title for St. Louis, came in the final three seconds, when Takahashi escaped from a Gramby hold. "It was a desperation move to try to get out," Takahashi said. "Every time I tried to get away, he kept getting my ankles. He had a really good defense."

Takahashi finished the season 34-1. Last year he won the 103-pound title. Smith, who had not met Takahashi before, finished 35-3.

Brown scored the final points for St. Louis with a 7-6 double overtime decision over Kamehameha's Noah Amba. The second overtime is 30 seconds long and if the wrestler who starts on top can stay on top, he wins.

Brown was desperately hanging onto Amba's foot as the Warrior sophomore dragged the Crusader junior across the ring, trying to kick Brown loose and score an escape. "He drained me out," Brown said. "We had exactly the same thing on Maui, but I was on the bottom and got an escape in the second overtime and won."

Jansen Fukuda, the 152-pound champion in 2000, won impressively at 160 this time. Fukuda, whose orange hair dye matches his Mid-Pacific singlet, defeated Lucas Misaki of Moloka'i, 11-2.

After finishing third at 160 last year, Punahou senior Mark Egesdal left nothing to chance at 171, beating 'Iolani's Robert Yamashita, 10-1, including two cradle-hold near falls and a fireman's carry takedown.

Lotulelei didn't eat his favorite pre-match meal of horsemeat, but was still strong enough to pin Utah-bound Kahuku football standout A.J. Smith in 1:09 of the second round. It was Lotulelei's 14th pin of a season; he finished 22-0. His career final is 91-3.

Lotulelei was one of three Neighbor Island champions. Baldwin's Grant Nakamura won the 125-pound title by 8-0 over Waiakea's Preston Sato and Lahainaluna's Kainoa Casco continued a family tradition, holding off a rally by Punahou's Randal Mizuno to take the 152-pound crown, 6-4.

Casco's brother, Kawika, had won the last two years.

The evening started with two great rallies. St. Louis' Wilmore, behind 13-6 to Punahou's Daniel Furuto in 103, closed to 13-12 with a 3-point pancake near-fall before time ran out. In 112s, Mililani's Andrew Delos Reyes scored five points in the third round to tie 'Iolani's Kris Wong 5-5 but Wong reversed a double leg ride with two seconds left to win.

"This is the best I've ever felt in my life," said Wong, who made the varsity for the first time in his senior year.