Advertiser photographer Richard Ambo and staff writer William Cole recently traveled with the Hawai'i National Guard and Army Reserve citizen-soldiers with the 29th Brigade Combat Team.

Posted on: Friday, December 8, 2006

•

Schofield mourns loss of five more soldiers
A roadside bomb attack, the signature killer of the Iraq war, claimed five Schofield Barracks soldiers on Wednesday in the single greatest combat loss for the post since the Vietnam War.


Posted on: Saturday, November 25, 2006

•

At least two Hawai'i Marines are killed
At least two, and possibly three, Hawai'i Marines were killed Wednesday in Iraq's western Anbar province, turning Thanksgiving into a day of mourning for their families.


Posted on: Friday, November 17, 2006

•

Two more Hawai'i Marines die in Iraq
The destructive firepower of the ubiquitous roadside bomb has claimed the lives of two more 21-year-old Hawai'i Marines in Iraq.


TODAY'S FEATURED MESSAGE:

Toni and Jeffrey Morris

My (new) husband is currently deployed in Iraq. Co.C. 2-27 infantry 1st platoon wolfhounds. won't be home until july 2007. missed him terribly throughout the holidays and i want to send prayers to him and all the other men and women in iraq, for a safe and quick return home. i love you, jeffrey!

TONI MORRIS, IVORYTON, CT.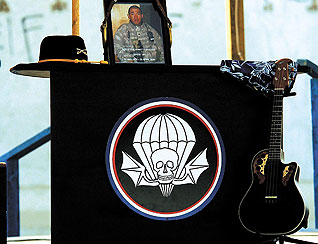 Army Sgt. Steve Sakoda's cavalry-style hat, 'ukulele, shorts and a portrait were displayed with a 101st Airborne Division "Death From Above" logo during a memorial service May 6 at Camp Stryker, Iraq. Sakoda, 29, of Hilo, was killed April 29 in a roadside bomb blast.
BILL SHAEFER | Idaho State Journal via Associated Press
---
MULTIMEDIA PRESENTATION:
"Until Then"

a Flash photo gallery created by Todd Clegg,

(www.gcsdistributing.com)

Remembering the fallen
List of troops killed in the crash of a
helicopter in western Iraq on Jan. 26, 2005

Paying our Respects
A tribute to the men and women with Hawai'i ties,
most of whom were killed in Iraq and Afghanistan, to date