By Mike Gordon
Advertiser Staff Writer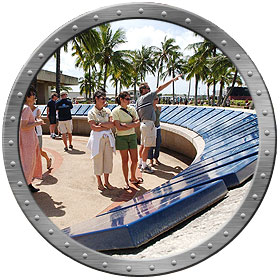 Visitors to the center view the plaques with names of those who died in the Dec. 7, 1941, attack.

Advertiser library photo | June 14, 2005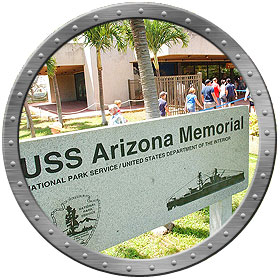 Before visiting the USS Arizona Memorial, visitors must first stop by the outdated visitors center. About 1.5 million people file through each year.

Advertiser library photo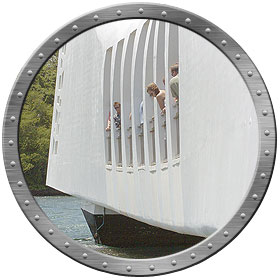 The USS Arizona Memorial at Pearl Harbor is in need of a new visitors center. A fundraising effort for the new facility is proceeding.

Advertiser library photo | June 14, 2005
The future of the Arizona Memorial sits on the shore of Pearl Harbor.
That's where the memorial's overburdened and outdated visitors center struggles to keep pace with 1.5 million people a year.
The National Park Service must replace the facility within the next four to nine years because the building is slowly sinking into the shoreline. The building, which opened in 1980, was built on fill material dredged from the harbor.
A fundraising effort — which is overseen by the memorial's nonprofit museum association — hopes to raise $34 million from public and private sources for a new center. A new $5 million headquarters for park service staff also is planned.
Although earlier visions of the new center put it behind the current one, that has changed. The replacement center will be built on roughly the same footprint as the current one. To prevent sinking, lighter materials will be used and the building will be placed on either a floating foundation or scores of deep pilings.
From more bathrooms to more display cases, a new center will make it easier to tell the story of this historic place and also keep the listeners comfortable, said Brad Baker, the National Park Service spokesman for the memorial.
"We have to do it," he said. "Come down here in the morning. There are a thousand people in line. The story of Pearl Harbor is still alive. We could accommodate more people and more stories about Pearl Harbor."
The park service would like a larger visitors center with a single-story building, museum, two theaters, a bookstore, a classroom and security facilities. It would be roughly 23,000 square feet, a little larger than the 19,325-square-foot present center.
A separate 10,700-square-foot administration building also will be built for staff and storage.
The museum association plans to open the new center in 2008, said Mathew Sgan, senior vice president for the association.
He said the association's Pearl Harbor Memorial Fund already has raised $10 million from private donations — some of it in pledges and some of it already in the bank — in less than a year. Another $500,000 was approved by the state Legislature last session and Congress is considering another $1.6 million for the effort, he said.
Sgan said that Hawai'i has a special responsibility when it comes to the Arizona Memorial and its story.
"We in Hawai'i are the keepers, the preservers of a national icon," he said. "It is important to us in many, many ways. It is a destination spot and in some cases, a destiny spot because our nation was so changed by what occurred here."
Reach Mike Gordon at 525-8012 or mgordon@honoluluadvertiser.com.