What's a "best"?
This guide represents a selection of the Islands' many food styles, not just fine dining and family restaurants but take-out and noodle shops.
Restaurants made the cut because:
They are favorites of readers of The Honolulu Advertiser, as reflected by ballot counts in the annual 'Ilima Awards reader write-in.
They were favorably reviewed by our restaurant critics.
They represent a type or style of cuisine important to the Island food scene, or they offer a noteworthy experience in ambiance or setting.
Our culinary roots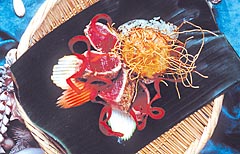 Sansei's Asian rock shrimp cake represents one facet of the blended cultural and culinary styles that shape Island cuisine. Sansei has relocated to Waikiki.

Sansei photo

As each ethnic group came to Hawai'i, they brought with them their foods and food ways.

The result is arguably the most cosmopolitan mix of dishes, techniques, tools and customs in the country, possibly the world. Significant contributions have been made by Hawaiians, Caucasians from America and elsewhere, Chinese, Japanese, Portuguese, Koreans, Filipinos and Puerto Ricans and more lately, Southeast Asians including Vietnamese, Thai, Laotians and Cambodians.

It is a place where rice is the staple starch, although it was never eaten by the indigenous people; where the classic plate lunch — entree, mac salad, two scoops rice — may be built around anything from fried chicken to kal bi ribs; and where the roots of Hawai'i Regional Cuisine are sunk deep in the rudimentary kitchens of plantation villages and shared lunches taken in the cane and pineapple fields.

When chef Lance Kosaka of Alan Wong's Restaurant drizzles Chinese roast duck with curry sauce or builds a Vietnamese-style summer roll from a European-style vegetable medley, he's telling a story about blended cultures and adventurous tastes.

Today, many Island institutions — mom-and-pop restaurants, okazuya Japanese delis, plate lunch wagons, manapua shops and bakeries — are passing into the third generation. But equally many are closing their doors because there's no one to carry on.

Islanders are more interested in health, thus we see plate lunch with brown rice and green salad. At the same time, the pace of life has speeded up, many more of us sit in offices all day, fewer people have time to cook, so that a place that was always a little takeout-crazy now sees many people picking up plastic bags of provisions three times a day.

The Hawai'i Regional Cuisine movement has forever changed the way we look at the table, inspiring even value-priced restaurants to add a fresh fish special to the menu, or serve mashed Okinawan sweet potatoes or mesclun mixtures of greens. Even if some of the innovation gets a bit silly, it is indicative of a vibrant, changing restaurant scene.

As this restaurant guide was being published ...
O'ahu's second Roy's Restaurant opened at Ko Olina Resort.
Sansei Seafood Restaurant & Sushi Bar moved to Waikiki from Restaurant Row in September and became Sansei Seafood Restaurant & Sushi Bar and Steak House in the Marriott Waikiki Hotel & Spa. A new fine dining East-West restaurant, as yet unnamed, will occupy the Sansei site at Restaurant Row, headed by chef Hiroshi Fukui, formerly of L'Uraku.
Plumeria Beach Café at the Kahala Mandarin Oriental Hawaii closed for remodeling and a fresh, new buffet and sit-down menu.
Youme.n in Waikiki closed its doors.
Meritage at Restaurant Row quietly closed; we look forward to chef Mariano Lalica's next endeavor.