Intervention programs offer Hawaii abusers some insight

Joe never hit, kicked or slapped his wife. Because of that, he never considered himself a domestic abuser. That hardly mattered when his wife earlier this year told him she was filing for divorce and demanded that he move out of their O'ahu home. For her, the years-long emotional and mental abuse had become too much.

Forum
Connect with others and share your stories in our domestic violence forum.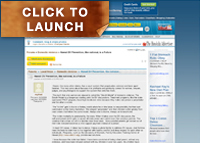 Day 6: Training
The murder and confession
On Nov. 1, 2006, Daysha was murdered by her ex-boyfriend, Jeffrey Boyd Santos Jr., a man she had lived with and loved, and the father of her only child. She was 21. This is her story as told by her journals, her family and her friends. She is missed, and she is remembered.

Many ill-prepared to deal with problem
The two men who were charged with the first two domestic-violence murders on O'ahu this year were on parole at the time of the killings.