A Friend, Dad, Business Partner

"He really believed in me.
That really has taken me further than anything else, his belief in me."
HOKU HO CLEMENTS | Songwriter, singer, daughter of a famous dad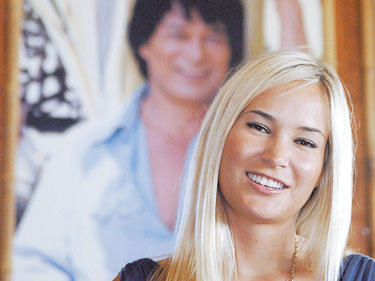 Hoku Ho Clements has her dad's smile, and followed him into the entertainment world. "People helped me a lot because of who my dad was."
REBECCA BREYER | The Honolulu Advertiser
By WAYNE HARADA
Advertiser Entertainment Writer
Hoku Ho openly admits she's daddy's girl. "He was a softie for his girls; he loved his girls," said Hoku, 25, of her father, the late entertainer Don Ho. "Oh, he loved my brother, too — but with girls … (she chuckles)."
And Hoku, a professional singer, finds much of him in herself.
"I always say I'm my father's daughter," she said. "I'm so much like him, in so many ways — appearance-wise, not so much. But he and I are very open, loving and honest. I find that I've always had that openness with people. And I love being around people, and I inherited that from him.
"He really loved people to the core — and I'm finding that I'm that way, too. The people in my life, I find so dear to me."
In a wide-ranging interview, Hoku acknowledged some of the lessons her father taught her, shared the advice he gave her, and explained why there's now a huge vacuum in her life.
Q. While you were growing up, did folks know you were Don Ho's daughter?
A. People knew, yes, before I knew. I would (hear), "Oh, you're Don Ho's daughter, yeah?," when I was running around the playground. I thought everyone's parents had shows at night. I didn't have any other reference for what it would be like. When they would tell me, "Don Ho, Don Ho," that made me discover what a great force he was, how famous he was. I didn't know. I learned from other people's reactions.
Q. Were there concerns to find your own imprint?
A. At first. I guess it never became an issue with us. He was from one aspect of the entertainment industry, I was headed into another. There was nothing negative; it worked in my favor. People helped me a lot, because of who my dad was.
Q. What specific tips did he give you to help with your career?
A. Songwriting. That was his big thing. At the time I started singing in the show, I had no idea about writing music. Since then, that's basically what I'm basing my career on. He was so adamant about (composing). Now, that's all I do. I'm a songwriter, a producer. I'm into all the things that he knew were important; that shaped the decisions I make.
Q. Did he understand your music?
A. (Laughs wildly) I always did send him what I had. He was always so supportive, but he didn't always understand everything. He would ask me to write songs for him. He always asked for lyrics and he always loved what I sent. But he'd say, "There are too many words. I can't sing that fast. I can't understand the words, you have to send me lyrics." He was supportive up until the end. Actually, the day I had my last conversation with him, I told him I just finished two songs. He was so excited. My one regret is that he never got to hear them. He really believed in me. That really has taken me further than anything else, his belief in me.
Q. What life lessons did you learn over time?
A. Especially in light of his passing, I feel like everything I've learned, I've learned from him. I wouldn't be in music if it weren't for him. That's so much of who I am. I wouldn't be living where I am (Los Angeles), living the life I am. He taught me everything I know about the entertainment business, everything I know about performing.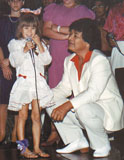 Don Ho gets down with little Hoku at the Hilton Hawaiian Village Dome in 1986. "He taught me everything I know about the entertainment business."
Ho family photo
Q. Your mom (Patricia Swalley Choy) sang with Don Ho in his early success. What has she shared with you about her experiences?
A. She loved performing with Dad. She was an amazing singer. She still is. She really helped me, I would say, with the technical aspect of singing. Dad really felt entertainment, knew the delivery of a song; he was very specific there. He seemed nonchalant, but he was very calculated. My mom was a strong singer, and she'd teach me where and how to put my voice.
Q. Do you sometimes feel his presence?
A. Right now, it's so hard. I almost expect him to walk into the room. I mean, he really was my friend, my dad, my business partner. There's such a vapid hole in my life. I'm still in shock in certain aspects. At times, I do feel his presence is with me, in that I am him, I'm part of him, we shared an amazing life together. I got to be a part of some really amazing times of his life, and I will always have that. Right now, I'm just holding on to my memories of him and just trying to keep all of that close to me in my mind. You know, keep going over it, not losing it, because I know that will carry me through the years to come.
Q. Have you ever offended him?
A. I will say he was taken off guard when I was getting married without telling him. That was pretty much the one thing he didn't expect. I was horrified; I was so afraid to tell him. I was so young. He was really harsh with the boys I would bring home. He would chase them away to see if they would keep coming back if they really cared about me, you know what I mean? That was the one area he was tough about, and I was afraid he was going to rip my husband's head off. But immediately after we were married, all that stopped and he understood (my husband) was going to be there for me and it wasn't going away. He was fine.
(Hoku's husband, Jeremy Clements, also was initially afraid. "I really was, up until we told him," Clements said. "The first words he told me were, 'Welcome to the family.' It was fear up to that point.")
Q. Was the family informed about the seriousness of your dad's heart problems?
A. No, he didn't discuss it. When he first started having issues with his heart, we all thought it would pass. It became clear that that wouldn't be the case. Over time, he really started to deteriorate. You know, we saw the difference in him. He was always the big strong daddy. He was macho. ...
He opened up to me a few times, in some moments that were frightening for him. We had conversations with him as to what was going on, but for the most part, he definitely tried to protect us from what was happening. He was the great protector. He didn't want us to face, you know, losing him. Up until the end, even. It was a complete shock, you know, when he passed. We'd known he was sick. I don't think he realized (how sick) because he was so young at heart. I guarantee, he didn't know (the extent of his weakened heart).
Q. Share your thoughts about his stem cell procedure in Thailand.
A. We were completely beside ourselves. We were so afraid. I mean, to send him on a plane like that, not knowing if we'd see him again; off to a crazy far-off country, with this experimental procedure? But we'd met the surgeon that was doing the procedure, and he told us what was going on, so we were (eventually) confident, having the information that we needed. But we were so afraid. Really early, (his heart) had deteriorated and once he had the surgery, he improved. He was new and fresh. He came back fine. He walked up the stairs and I was sitting there and he moseyed up and said "Hi," and it was amazing.
Q. You appeared at the first "Don Ho Presents 'Ohana Ho" show — the one without him. What was that like?
A. It was the first night we had a show when he wasn't there. I came in at the end. And it was hard. It was overwhelming. I was fine, sitting in the audience, enjoying the show, remembering Dad. I thought I could do it — until the part where I'd go on stage. I broke down, because that's where we'd hang out. By the time I made it to the stage, I was a basket case.
Q. What will you miss most?
A. (Sobs) What I'm gonna miss most … is having my dad around. (Wipes tears.) I'm just going to miss picking up the phone, asking him what I should do, asking him for advice. I'm going to miss talking to him. We talked about everything. I'm going to want him to be around when I'm having kids and he's not going to be there. It's hard to grasp all the things in life I'm going to wish he was there for. I'm going to miss him not being on the other end (of the phone). We called each other almost every night. We were extremely close. I'd call right before I went to bed, or he'd call me right before he went to bed. We'd say goodnight. We always stayed connected. But I'm grateful he's in a better place, and I take comfort in that, knowing he's happy now, not suffering anymore. He hated being like that. Even though I can't be there for him, he's so much happier. I know he misses me. I know it won't be too long for him till I can be there with him. (Sobs) I'm sorry. It hits me every once in a while.
Reach Wayne Harada at wharada@honoluluadvertiser.com or 525-8067.
[ Top ]