A chronicle of the last 100 years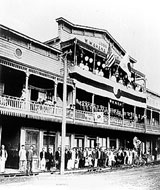 The first headquarters of the United Korean Association opened on Miller Street.

Korean Independence Hall photo

The beginning: Ship docks in Honolulu
Jan. 17, 1903 • The SS Gaelic docks in Honolulu with 102 Korean immigrants aboard. Records show 16 Koreans had come individually by 1902, but this date marks the beginning of the first wave of Korean immigration to Hawai'i and the Mainland. The group includes families and single and married men coming to work on the sugar plantations.

Korean church established
November 1904 • The Methodist Episcopal sect holds its first religious service on River Street.The Korean Methodist Episcopal Church (eventually Christ United Methodist Church) is established the following year.

Japan takes over; immigration halts
July 9, 1905 • President Theodore Roosevelt convenes the Portsmouth Peace Conference after the Russo-Japanese War to settle territory claims in Asia. The settlement enables Japan to declare a protectorate over Korea. Korean immigration to Hawai'i is halted.

Liberation group organizes
1907 • The United Korean Association is formed to support Koreans' goal to liberate the homeland. It merges with a San Francisco group in 1909 to form Kuk Min Hur, or the Korean National Association (KNA).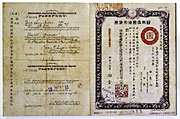 After 1910, Korean passports were issued by the Japanese Imperial government.

University of Hawai'i
Japan annexes Korea; tensions mount
1910 • Japan annexes Korea.Tension grows between Koreans and Japanese in Hawai'i. By this date, about 1,000 immigrants had returned to Korea, many ill and going home to die. But after annexation, with the immigration ban lifted, more Koreans leave their homeland, especially wives and children of laborers.
Syngman Rhee emerges as leader
1912-1913 • Korean patriot Young Man Pak arrives in 1912, followed the next year by Syngman Rhee. Rhee eventually founds the Korean Christian Church, leads the Dongji Hoi — a nationalist political organization — and engages in other political and educational initiatives.
Brigade forms in 'Ahuimanu
Aug. 29, 1914 • Pak forms the Korean National Brigade, made up of officer cadets pledged to Korean independence who train at a base in 'Ahuimanu.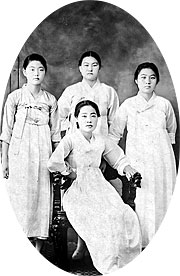 Picture brides arrived in the greatest numbers between 1913 and 1919.

William Lee photo
'Picture brides' arrive in Hawai'i
1913-1919 • These are the peak years for Korean "picture brides" arriving in Hawai'i. World War I also enables Koreans to prosper in tailoring and laundry businesses, serving soldiers. By July 1918, Korean enlistment in the U.S. Army totals 163 men.
Exiled leaders form government
1919-1920 • The push to reclaim Korea peaks with a declaration of independence after the death of King Kojong in 1919. A provisional Korean government forms from Korean leaders exiled in Shanghai. Koreans in Hawai'i buy bonds to support the government. Rhee is elected president and goes to Shanghai in 1920.
Korean Christian Church opens
1923 • A newly organized Korean Christian Church opens on Liliha Street. Membership swells with the arrival of new picture brides whose transition to Hawai'i is eased by missions on the Neighbor Islands. Other newcomers join the Methodist Episcopal churches. New U.S. directives issue certificates to children born here, supporting their desire to be considered American.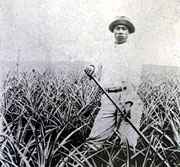 Korean immigrant Won Soo Lee works in a pineapple field in 1915.

Center for Korean Studies photo
'Korea Town' booms in Wahiawa
1925-1930 • Wahiawa becomes a "Korea Town," with Schofield Barracks adding varied employment opportunities to plantation jobs. The Korean American Club is formed in 1925.
Kim chee grows in popularity
1939 • Joe Kim begins to manufacture and market kim chee on O'ahu under the Diamond Kim Chee label; on the Big Island, Hannah Kim Liu opens the Kohala Kim Chee business at about the same time. This popularizes the Korean cabbage relish, previously unknown beyond Korean family tables.
World War II casts suspicions
1941-1945 • World War II complicates lives for foreign-born Koreans who had Japanese passports. During the war, 1,200 Korean prisoners of war are interned near Wheeler Field. Korean-American soldiers are assigned to guard them.
Cultural center building bought
1947 • The KNA buys its headquarters in Pu'unui; the building today is known as the Korean Cultural Center of Hawai'i.
Rhee becomes president
1948-1949 • Rhee is elected president of the Republic of Korea, an office he holds until his ouster in 1960, when he flees to Hawai'i in exile. The first Korean consulate opens in April 1949. Rhee is elected president of the Republic of Korea, an office he holds until his ouster in 1960, when he flees to Hawai'i in exile. The first Korean consulate opens in April 1949. Rhee is elected president of the Republic of Korea, an office he holds until his ouster in 1960, when he flees to Hawai'i in exile. The first Korean Consulate opens in April 1949.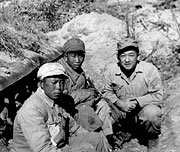 Master Sgt. George Owen, right, sits with two Chinese prisoners during the Korean War.

George Owen photo
Soldiers serve in Korean War
1950-1953 • The Korean War connects Korean-American soldiers with their ancestral homeland; they serve in intelligence units and elsewhere. War brides in Hawai'i actively preserve Korean culture.
More newcomers settle here
1965-1980 • Revision of immigration laws spurs a new wave of Koreans settling in Hawai'i. The Center for Korean Studies opens in 1973.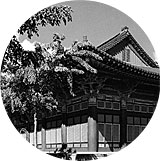 The Center for Korean Studies opened at the University of Hawai'i at Manoa in 1973.

Center for Korean Studies photo
Cultural awareness increases
1980-present • Immigration continues, resulting in a population of 23,537 Koreans in Hawai'i, according to the 2000 census. The growth spurs the establishment of more than 100 Korean Christian and Buddhist communities. The Center for Korean Studies embarks on a program in 2000 to broaden the teaching of Korean history and culture.