Fall trends, local style
Fall in Hawai'i can be an exercise in frustration for those who love fashion. As retailers tempt us with seasonal staples such as tweed and thigh-high boots, savvy Island women must make constant reality checks. But, hey, who wants to dress the same way all year long? It's far more fun to switch it up, moving season-sensitive wardrobe segments to the back of the closet according to the fashion calendar. Who says we have to forego fall and winter trends just because the temperature remains in the balmy '80s? We can make fall fashion work for us, not against us. This year there are lots of trends that can be aptly adapted to our climate and lifestyles. Here are six of them. ~Paula Rath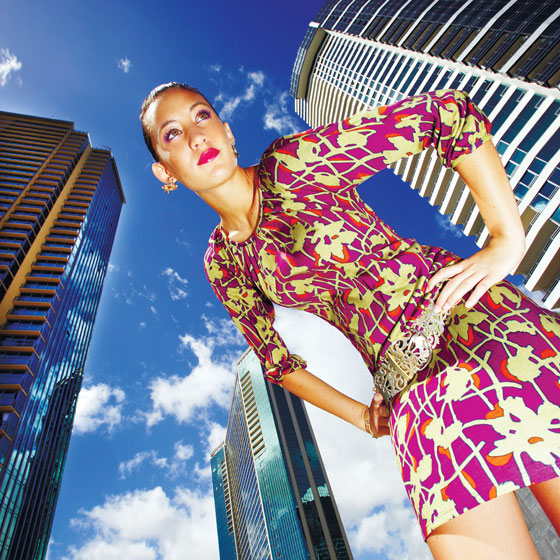 Honolulu seems to be exploding skyward as high-rises climb ever higher, especially over Kaka'ako and Downtown. We perched our model, Rain Maiava-Rusden, of More Models & Talent, on the pool deck at Hokua, one of Honolulu's most enviable addresses, to get a view of our city's new skyline.
Dress by T-Bags, $172, and belt, $22, from Bamboo Sky, 14K vermeil and peridot earrings by Sophia & Chloe, $271, and gold fill bracelet by Nunu $161, both from Riches Kahala.
Cover photo: Rae Huo. Stylist: Paula Rath.

MORE TRENDS:

AUDIO
U magazine's Paula Rath has fall fashion advice for U readers. Looks have changed since the styles of summer. Find out here about making the wide-leg pant work in your wardrobe.