New designers
Photographs by Joaquin Siopack
Designer Toby Portner has a passion for polka dots and always dreamed of having a tree house, hence her Web site: www.polkadotreehouse.com. A year after her 2004 move to Honolulu, she built this tree house. Sometimes she allows her daughter, Samaya, 7, to play in it.
Toby Portner
Toby Portner always wanted to be a fashion designer, but growing up in Detroit, she was encouraged to pursue a practical profession, so she got her degrees in education and public health. After a move to Honolulu, where she works with the Department of Education as a resource teacher for gifted students, Portner had an epiphany: "I really want to design clothing. I don't have to BE a designer, I can just DO it." She took a pattern-making class and began sewing. She designed and made skirts that she wanted to wear, sent them off as gifts, and friends begged for more. A Chicago stylist discovered her and bought up every available piece, and soon several Midwestern boutiques were clamoring for Toby P. creations. In Honolulu, Portner took a cue from Tupperware: Local women can book a trunk show in their own homes, and Portner will arrive with racks of clothing. She also favors events she refers to as "awareness-raisers" — bazaar-type shopping events with other artists/vendors to support a local cause. Portner, 39, has expanded her line to include pants, convertible dresses, tunics and her latest creations, eco-friendly curtains fashioned from remnants. On her fabric-buying trips to Los Angeles, she picks up complementary shoes, T-shirts, cardigans, blouses — things that enable her clients to be wardrobed from head to toe. "Pattern mixer" is how she describes her style. Polka dots and plaids, calicos and camouflage are paired in her pieces. Go to www.polkadotreehouse.com to find out about her next show.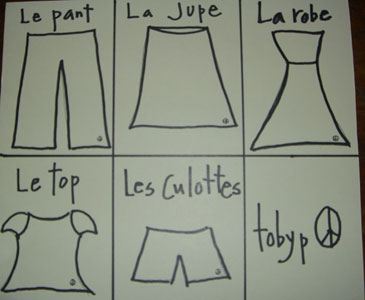 Ara Laylo models a dress from Dan Weaver's fall collection; $120 at Queens Candy Shop. Ara's hair was styled by Joe Randazzo of J Salon.
Dan Weaver
Emerging designer Dan Weaver, 23, of Makiki, might just become Hawai'i's first contestant in the wildly popular Bravo TV reality show "Project Runway." Last April, without any real planning or preparation, he traveled to Los Angeles to audition. He surprised everyone, including himself, making it through several rounds of screening and interviews. He got far enough along to meet with Tim Gunn, the show's designers' guide, and Jeffrey Sebelia, last year's Project Runway winner. Weaver is now honing his design skills in preparation for this month's FACE of Nu'uanu design competition. Last year, he was named a promising new designer. Weaver is developing a solid fashion portfolio, creating cohesive collections that he shows in Chinatown venues such as NextDoor and thirtyninehotel. His fall collection is earthy and body-conscious, employing knits. His attention to detail and interesting take on a woman's silhouette is ever-present. "Yes," Weaver said, "I did learn the correct way to make things in school, but I like to tweak it in weird ways until it all comes together for me." Cutting. slashing, patching and clipping are all part of his design vocabulary.

Fashion designer Carly Cais models a chandelier-print tank top with crystals, $68, and reversible pinstripe skirt-pants, $134, with acrylic chandelier drop earrings, $38, from her holiday collection. Model Cristina de la Diosa is wearing a "Jetsetting From Honolulu" dress, $163, and gold chain jewelry, $65 to $86, from the Riveted fall collection, sold at the Queens Candy Shop and www.riveted-clothing.com.
Carly Cais
Carly Cais, 28, came on our radar in March when she became a national finalist in Bacardi Limón's Express Your Style competition. Her whirlwind trip to New York provided the inspiration and impetus to launch a new line of women's wear, Riveted. Although Cais, who lives in Makiki, is an animator by training and has little formal fashion background, she applied her considerable energy and talent (working at night while her 2-year-old, Keiden, slept) to a cohesive collection she debuted in June at thirtyninehotel. Inspired by gritty New York streets and graying late-spring snow, Cais selected a slate-gray wool jersey knit for her sophisticated, sculptural silhouettes. She then sparked it with feminine, pastel-pink accents in cotton knits. "My aesthetic is structured, tailored, body-conscious but not with everything hanging out," the designer said. Her upcoming holiday collection is in ever-popular black-and-white, sparked with crystal accents to add pizzazz to the urbane aesthetic.
~Paula Rath