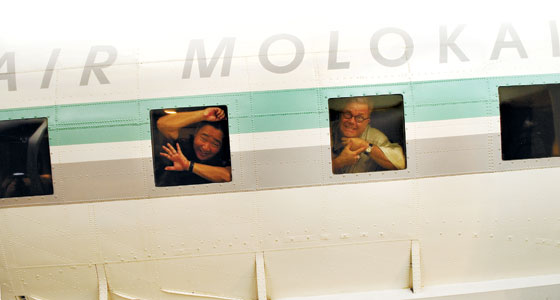 Fashion designers Takeo and Eric Chandler are taking off on their next adventures, FACE of Nu'uanu and Honolulu Fashion Week. PHOTOGRAPH BY JOAQUIN SIOPACK
The changing face of fashion
By Paula Rath
Honolulu's fashion scene is heating up. In Chinatown, the city's epicenter of cool, designers show their creations in venues as varied as NextDoor, thirtyninehotel and the Pegge Hopper Gallery. Runways are being constructed in nightclubs, galleries and down the middle of our streets. DIY fashion is trickling up from street to boutique, as spots like Queens Candy Shop adopt it as their credo.
Here's some of what's making the Honolulu fashion scene sizzle.
HONOLULU FASHION WEEK
During its first year, 2006, The FACE of Nu'uanu burst onto the fashion scene to an unexpectedly enthusiastic response from established and emerging designers, as well as a Honolulu audience that turned out 10,000 strong, eager to see what the contemporary Island fashion scene had to offer.
FACE stands for Fashion, Art, Culture and Entertainment, and that sums up the raison d'etre of the event.
Organizer Takeo of 2Couture, a Chinatown-based fashion studio specializing in evening gowns for beauty contestants and socialites, placed a red carpet down Nu'uanu Avenue that served as a runway for 40 fashion designers. The event quickly earned a reputation as Honolulu's version of "Project Runway."
This year the FACE of Nu'uanu is expanding into new venues, increasing events and opportunities as it strives to earn its new moniker: Honolulu Fashion Week. From Oct. 8-13, Chinatown galleries, the University of Hawai'i-Manoa's Apparel Product Design and Merchandising program, the Hawai'i Fashion Incubator and other individuals and organizations are placing their focus on fashion in Hawai'i.
The Pegge Hopper Gallery is becoming a "fashion museum," featuring iconic island garments such as cellophane skirts and the designs of Nake'u Awai and Princess Kaiulani Fashions. The gallery also is housing a retrospective of the First 50 Years of Tori Richard fashions.
On Oct. 9, the Honolulu Culture and Arts District sponsors a fundraiser for FACE of Nu'uanu. The Louis Pohl Gallery and other galleries in Chinatown, as well as INTO on Hotel Street, all supporters, have helped by making tickets available.
As a result of showing their fashions during FACE of Nu'uanu last year, several emerging designers, including Aima McManus, Andy Southiphong and Alan Carrell, have gone on to create their own lines of clothing.
Carrell, who is also co-owner of INTO boutique on Hotel Street and a winner of Most Promising New Designer at last year's fashion show, said the opportunity afforded him by FACE of Nu'uanu was invaluable: "It gave me the encouragement to get back into the fashion world and start producing clothes. It was exciting and stressful and scary and all of that." And, yes, he will participate again this year, with a line he's calling "honeymoon outfits — women's dresses coordinated with men's board shorts."
Takeo expects about 50 designers to show on the runway. He anticipates that half will be repeats from last year and half will be brand new to Honolulu's fashion scene. Look for a new flash of talent to be revealed.
HAWAI'I FASHION INCUBATOR
When the Hawai'i Fashion Industry Association quietly disappeared from the scene about a decade ago, it left the state's fashion industry in something of a black hole. With no central organization and board to watch out for the interests of fashion firms and designers, old and new, established and emerging, momentum was lost and networking slowed to a near halt.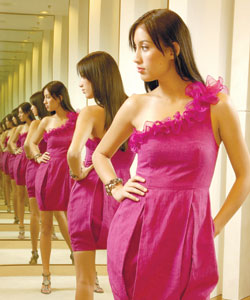 PHOTOGRAPH BY JOAQUIN SIOPACK

Now a group of energetic and organized fashionistas is working to create a Hawai'i Fashion Incubator, aka HiFI. The plan is to incorporate as a nonprofit membership-based trade organization. Meeting several times a month, the group has gathered members from the fashion worlds of academia, retail and design. Members are now selecting a board of directors and finalizing a mission statement.

Their goal, according to Melissa May White, one of the originators of the concept, is to become a central resource for the fashion community and to promote Hawai'i fashion as an art and industry. In addition, HiFI hopes to create the opportunity for networking within a fashion community. Organizers are planning to identify a physical place — Chinatown and Kaka'ako are possibilities — to create a fashion district.

Among the first projects HiFI is tackling is a partnership with the curators of the UH-Manoa costume collection. UH has one of the academic world's most extensive costume collections. As part of the FACE of Nu'uanu, HiFI is curating a show of vintage aloha shirts and swimwear from the 1930s to the present at Ramsay Galleries in Chinatown, beginning Oct. 11.

EXCLUSIVE: 3.1 PHILLIP LIM COLLECTION

Each year one of the world's top designers is selected to be featured during the Neiman Marcus Hip Event in October. This year it's 3.1 Phillip Lim, who introduced his eponymous collection in the fall of 2005 to instant critical and commercial success. (Karl Lagerfeld and Theory were tapped for previous years.) Feminine, cool, polished and effortless, Lim's clothes are prized for their relevance and modernity.

For fall 2007, Lim designed an exclusive collection of 13 pieces for day and evening for Neiman Marcus, calling it an ode to the woman of today. Lim wrote, "She is a citizen of the world, multi-tasking, balancing work and play, and most importantly living her life to the fullest! I was thinking about a modern 'working wardrobe' for women that consists of the essential pieces that she would carry herself from day to evening, from boardroom to ballroom, from city to city."

URBAN PACIFIC SEEKS EMERGING DESIGNERS

Lacy Matsumoto noticed that when her friends graduated from various fashion design schools they knew a lot about pattern making, draping and designing, but precious little about marketing and self-promotion. She also observed that there were few opportunities for emerging designers to show their collections.

"A lot of my friends were making clothes, but there wasn't any place for them to show," she said.

She created Urban Pacific, a fashion and entertainment event that happens each fall and spring (one's scheduled for Oct. 11) at NextDoor in Chinatown. She networks with up-and-coming designers, helping them put together line and price sheets, brochures and other marketing materials. She even walks them to the office supply store to purchase receipt books.

Among the designers launched at Urban Pacific are Cut 'n Sewn by Dan Weaver, La Pistil, Mechakawa Vintage, Fiume, Sassy Lassy and Anna Lucas. Who's next?