By Andrew Gomes
Advertiser Staff Writer

The 860-passenger Maui-based cruise ship Independence will head for an unscheduled weeklong repair in March to rebuild the bow thruster that helps dock the 30,000-ton ship.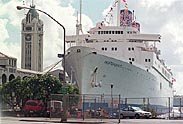 The USS Independence will be dry-docked for at least a week to rebuild the cruise ship's bow thruster.

Advertiser library photo • Nov. 4, 2000

Independence operator American Classic Voyages Co. of Chicago announced the dry-dock visit yesterday, and said it must cancel the March 24-30 cruise.

"We apologize for the inconvenience this causes our customers and the travel agents involved, however, it is appropriate that we address this repair promptly," Rod McLeod, company president and chief operating officer, said in a statement.

It was not immediately known how many customers were affected. Where possible, confirmed passengers were rebooked onto earlier or later sailings, and given cabin upgrades and a $25 on-board credit.

Randy Burns, vice president of marine operations for American Classic, said thruster wear had become serious in the past three weeks. The estimated $500,000 repair needed to be done to avoid permanently damaging the system.

Repairs are intended to be done at the Pearl Harbor Naval Shipyard.

Until repaired, the ship will be maneuvered in port using tugboats.

Customers canceling their trips were being given a full refund and 50 percent off a future seven-night Independence cruise. Travel agents will keep commissions and receive a $50 rebooking fee for passengers who rebook the cancelled sailing.

Passengers and travel agents affected by the change can call (800) 880-4707.