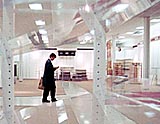 The JC Penney store at Memorial Mall in Sheboygan, Wis., closed Saturday, another casualty of the nation's economic downturn. The Fed yesterday lowered interest rates in an effort to boost the economy.

Associated Press library photo • Jan. 22, 2001

Click! Techtoy Giveaway
Win a Casio wristwatch digital camera. Enter through Feb. 11 to win.
Interest rates drop further
Hawai'i consumers and businesses are expected to feel immediate and far-reaching effects from yesterday's move by the Federal Reserve Board to further pare interest rates and stimulate a rapidly slowing U.S. economy.

Fed drops interest rates amid worsening outlook